Cake is a requirement for me on every special occasion. So I make this simple, delicious butter cake, which smells great with vanilla and strawberry filled with butterscotch and strawberry jam. In addition, the preparation of such a cake is simple, and it is really worth surprising a person important to us 🙂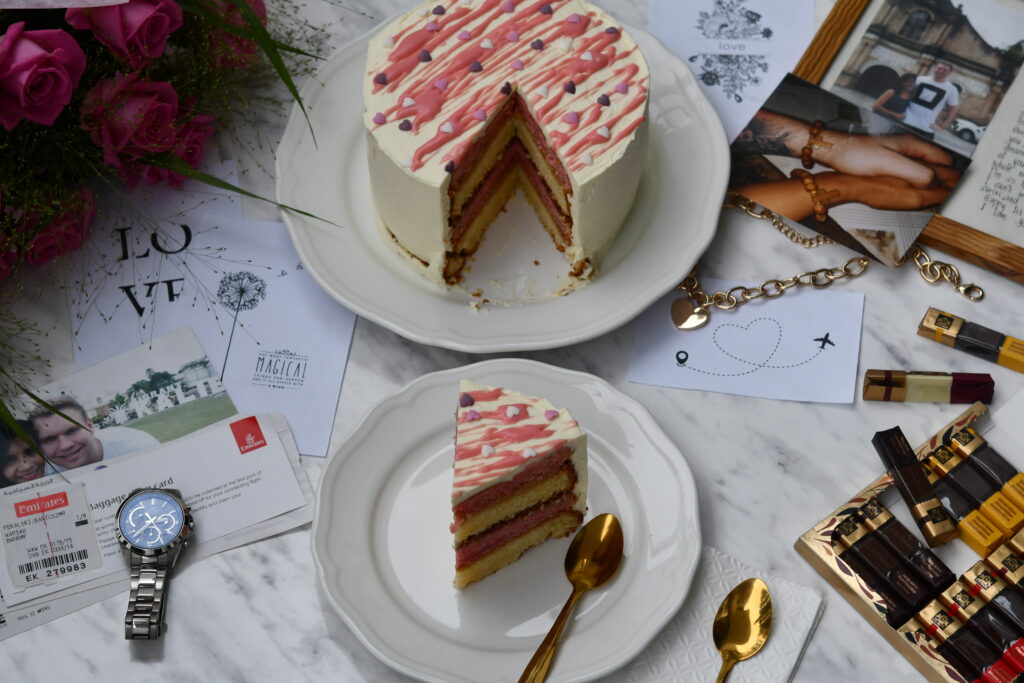 Vanilla Cake:
Ingredients:
230 g unsalted butter, room temperature
200 g powdered sugar
2 teaspoon vanilla extract
3 large eggs
315 g plain flour
3 teaspoons baking powder
240 ml milk
2 tablespoons sour cream
Strawberry Cake:
Ingredients:
1 teaspoon strawberry extract
pink food coloring
Procedure:
Grease and line two 6 inch round baking tins. Preheat the oven to 180°C. In a large mixing bowl, combine the butter, sugar and vanilla extract. Mix until smooth and fluffy. Add eggs one at a time beating after each addition. Sift in flour and baking powder and mix on a low speed. Pour in milk and sour cream and mix until well combined. Do not over mix. Divide the batter evenly into two parts. In one part of the batter, add strawberry extract and pink food coloring. Mix slowly until well combined. Let the other one part remain as is which is the vanilla. Pour each batter into the prepared baking tins. Bake for 40-45 minutes or until a toothpick inserted comes out clean. Remove from the oven and allow to cool.
Frosting:
Ingredients:
250 ml cream 30%,
200 g mascarpone
powdered sugar, to taste
1 fix creams
6 tablespoons of butterscotch
3 tablespoon of strawberry jam
Procedure:
Cut both cakes into two parts. Place the first layer of vanilla cake into the cake board. Spread 3 tablespoons of the butterscotch. Put the second layer which is the strawberry cake (I alternately layered the cakes). Spread 3 tablespoons of strawberry jam. Put the vanilla cake as a third layer. Spread 3 tablespoon of butterscotch. Lastly, cover with the strawberry cake as a fourth layer on top. Now, prepare the frosting, pour in the cream into a metal bowl. Add mascarpone and mix. Add sugar and fix while whipping. Whip in until stiff whipped cream is obtained. Spread the whipped cream on the sides and on top of the cake.
Toppings:
Ingredients:
100 g white chocolate
100 ml cream 30 %
½ teaspoon strawberry extract
pink food coloring
hearts candy sprinkles
Procedure:
Boil the cream into a saucepan over medium heat, remove from the heat and add in white chocolate. Stir vigorously until the chocolate is melted and uniform mass is obtained. Add strawberry extract and pink food coloring. Stir and allow to cool. Once cool, drizzle the top of the cake with strawberry glaze and decorate it with heart candy sprinkles.
Enjoy!