I don't know a person who doesn't like chocolate cake. With strawberry pieces we have a really nice composition of flavors. The cake is not too sweet, strawberries add cool refreshment and emphasize the taste of chocolate coating. A simple, fast and very tasty recipe for homemade dessert 🙂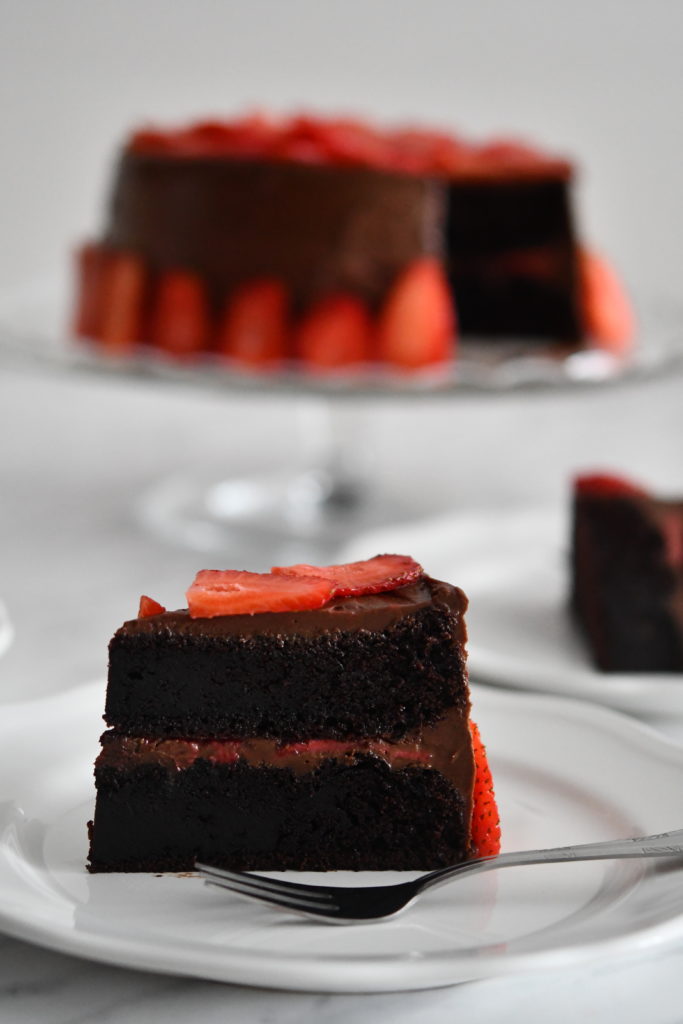 Ingredients:
250 grams flour
250 grams granulated sugar
90 grams cocoa powder
1 teaspoon of baking powder
2 teaspoons of baking soda
½ teaspoon of salt
3 large eggs (at room temperature)
½ cup of sour cream 12 %
½ cup buttermilk
½ cup of oil
2 ½ teaspoon of vanilla extract
1 cup of coffee
chocolate frosting:
3 large egg whites
100 grams granulated sugar
⅓ teaspoon of salt
200 g of semi-sweet dark chocolate, melted
250 g of butter (at room temperature)
½ teaspoon vanilla extract
strawberries, sliced
Procedure:
Preheat the oven to 180ºC. Prepare a 2 baking pans and grease with butter or oil. In a large bowl, sift in the flour, sugar, cocoa powder, baking powder, baking soda and salt. Mix using a fork to combine. Set aside. In another mixing bowl, place the eggs, cream, buttermilk, oil and vanilla. Mix using an electric mixer until well combined. Slowly add the dry mixture and mix it well together. Pour in equally into 2 prepared pans. Bake for 20-25 minutes. Place into a cooling rack. While waiting for the cakes to cool, prepare the frosting. Place egg whites and sugar into a big mixing bowl. Mix until became foamy. Add the butter one at a time and mix well. Add melted chocolate and vanilla. Mix until well combined or until it became smooth and fluffy. Put a half of chocolate frosting on top of a cake and spread, add half of sliced strawberries. Put another level of cake. Put frosting around and on top of cake and decorate with some slices of strawberries.
Enjoy!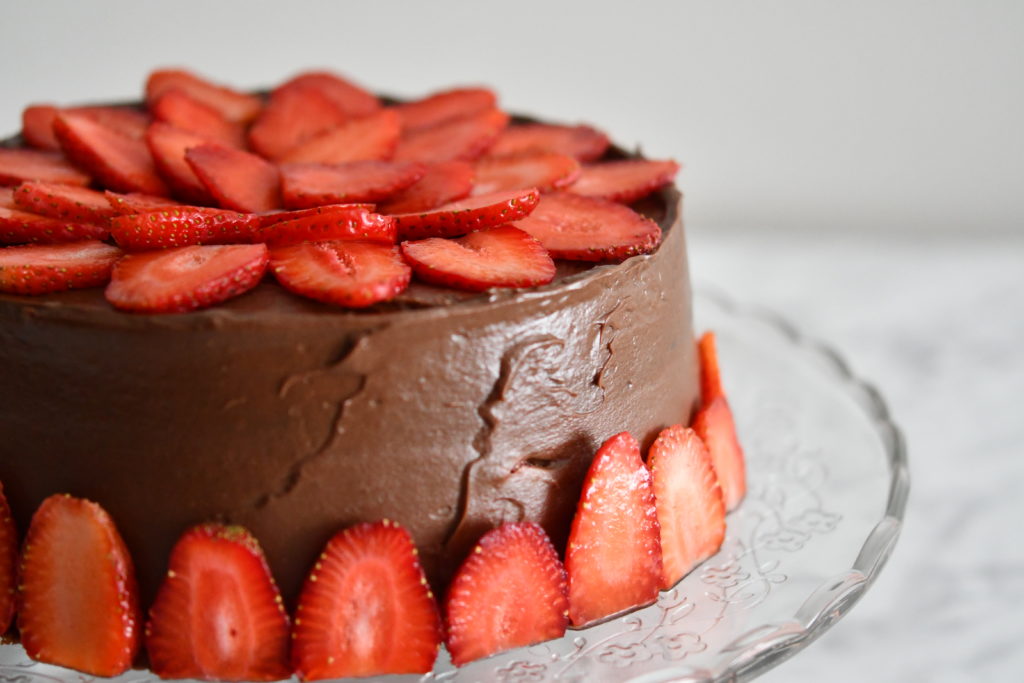 baking powder
,
baking
,
buttermilk
,
cacao
,
coffee
,
cream
,
egg
,
flour
,
oil
,
strawberry
,
vanilla