Cannelloni is an Italian pasta that resembles a tube, making it perfect for stuffing. A delicious, elegant, simple dish with tomato and meat sauce, cream sauce and baked cheese is a great idea for a special occasion 🙂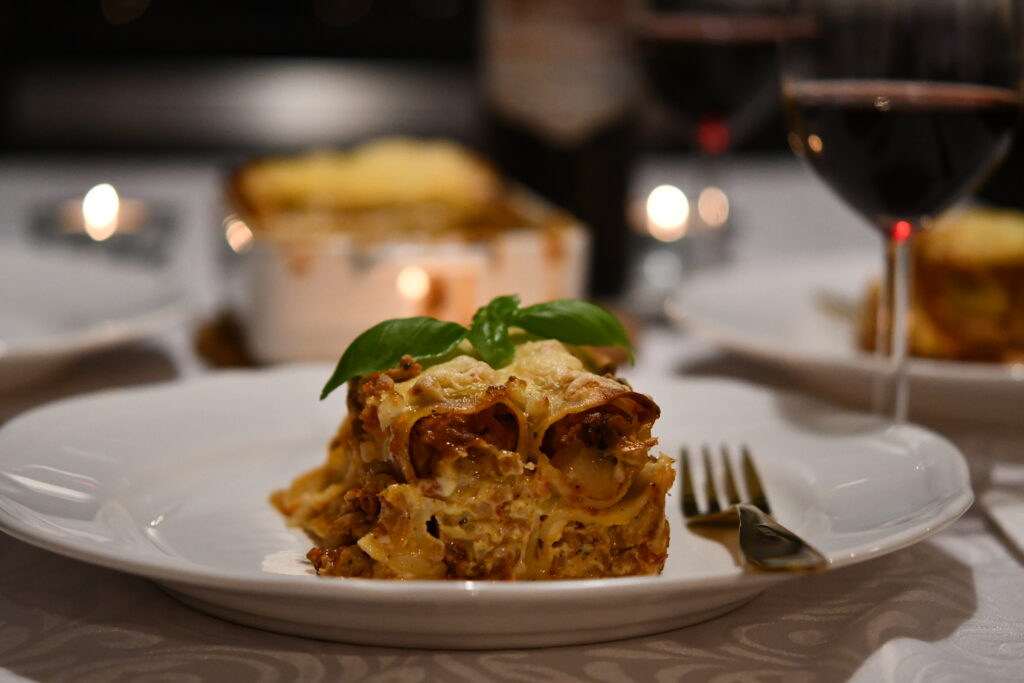 Ingredients:
1 box of cannelloni pasta (250 g)
500 g of ground pork
2-3 large mushrooms, sliced
1 large onion, chopped
4 cloves of garlic, chopped
1 medium carrot, grated
1 chili pepper, seeded and chopped
1 can of sliced ​​tomatoes
200 ml cream 30%
2 pinches of nutmeg
5 tablespoons of grated yellow cheese
salt and pepper to taste
half a teaspoon of oregano
half a teaspoon of basil
pinch of sugar
spoon of butter
2 tablespoons of oil
a few basil leaves for decoration
Procedure:
Put the pasta in boiling water with salt and a tablespoon of oil. Cook for 2-3 minutes and set aside to cool. Heat the oil in a pan over high heat. Fry the carrots for 2-3 minutes, add half of the chopped onion, garlic and fry for another 3 minutes. Add mushrooms and chili pepper and fry again for a few minutes. Then add the ground meat and fry until it changes color. Add salt, pepper, basil, oregano and mix. Pour canned tomatoes, add half a glass of water and a pinch of sugar, mix everything thoroughly. Simmer uncovered, stirring occasionally, until the sauce is reduced and not watery. During this time, prepare the cream sauce. In a saucepan, melt the butter over low heat. Add the rest of the onion and simmer for a few minutes until the onion is soft and glassy but not brown. Pour in the cream and bring to a boil, stirring occasionally. Season with salt, pepper and nutmeg, mix thoroughly. It is worth waiting for the sauces to cool down because it will be easier to stuff. Brush the bottom of an ovenproof dish with a thin layer of cream sauce. Stuff the pasta with meat sauce (for example, using it with a spoon). Place the first layer of meat pasta and pour half the cream sauce over it. Place another layer of cannelloni with meat and pour over the remaining cream sauce again. Bake, covered, for 20 minutes in an oven preheated to 180°C. After this time, sprinkle cheese over the dish and bake for another 10-15 minutes, until the cheese is lightly golden. Decorate the finished dish with basil leaves.
Enjoy!