Spaghetti is very often served on Filipino tables during various celebrations, especially during birthdays. On the other side, birthday parties are more associated with cake. So I decided to prepare a baked spaghetti cake that will definitely surprise your guests in its view, but the best in this dish is the taste 🙂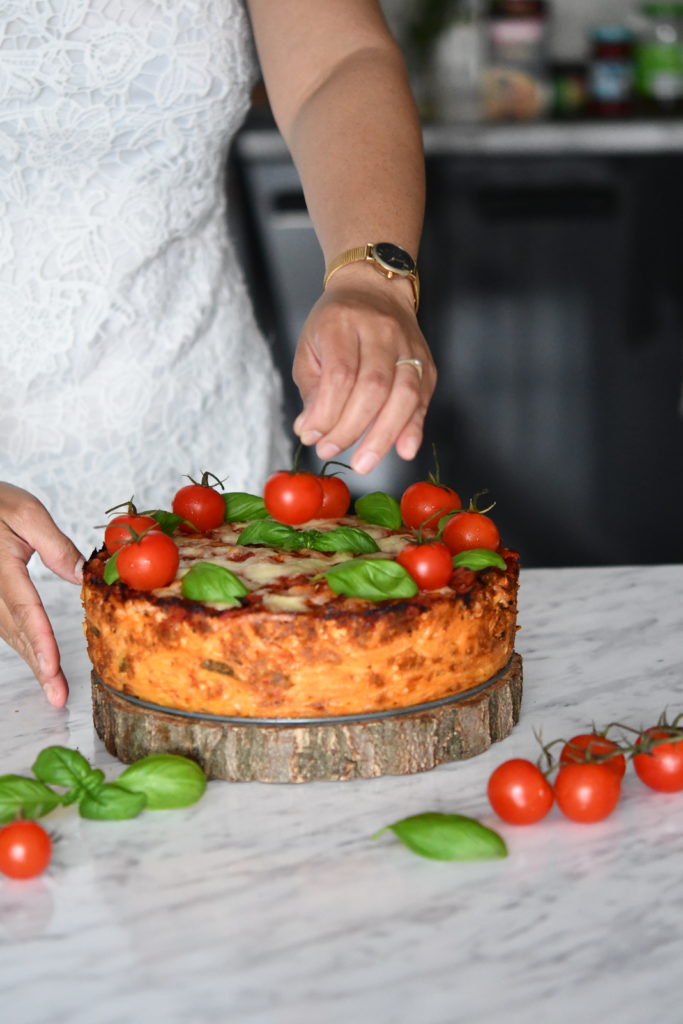 Ingredients:
500 g spaghetti pasta
500-600 g minced meat (I used a pork shoulder)
1 onion, cubed
3 garlic cloves, chopped
a handful of green string beans cut into smaller pieces (optional)
100 g ricotta cheese
150 g grated mozzarella cheese
3 eggs
100 g of grated cheese
2 cans of cut tomatoes
1 teaspoon oregano
1 teaspoon basil
a pinch of sugar
salt and pepper
Preparation:
Prepare tomato sauce. Pour the contents of 2 cans of chopped tomatoes into the pot and bring to a boil. Add oregano, basil, sugar, salt and pepper to taste. Cook on low heat until the sauce is reduced and thick and uniform. Stir occasionally to avoid burning. Cook spaghetti pasta according to the instructions on the packaging. Heat oil in a deep frying pan and fry the onion in a glass color. Add garlic and fry for literally a few seconds. Add meat and fry it until it changes color. Season with pepper and add green beans and simmer together for 8 minutes. Pour eggs, ricotta cheese and yellow grated cheese into a very large bowl, mix thoroughly. Add half of the tomato sauce, meat and mix again. Add pasta and mix so that all ingredients are evenly distributed, and the pasta is completely covered with sauce. Grease the cake tin from the inside with oil. Pour the entire contents of the bowl into the cake tin and gently knead with a spoon. Pour over the remaining sauce evenly. Heat the oven to 180ºC and bake the cake for 25 minutes. After this time, sprinkle the top with mozzarella and bake again for 10 minutes until the cheese dissolves. After removing from the oven, wait about 10 minutes before removing baked spaghetti from the cake tin so that the cake it will remain its circled shape and not broken. Garnish with small tomatoes and basil.
Enjoy!