A delicious casserole, slightly reminiscent of a pancake cake, and the taste is similar to a burrito. An effective dish that will beautifully decorate every table, simple execution, where you do not need great culinary skills and a brilliant taste that will please literally everyone 🙂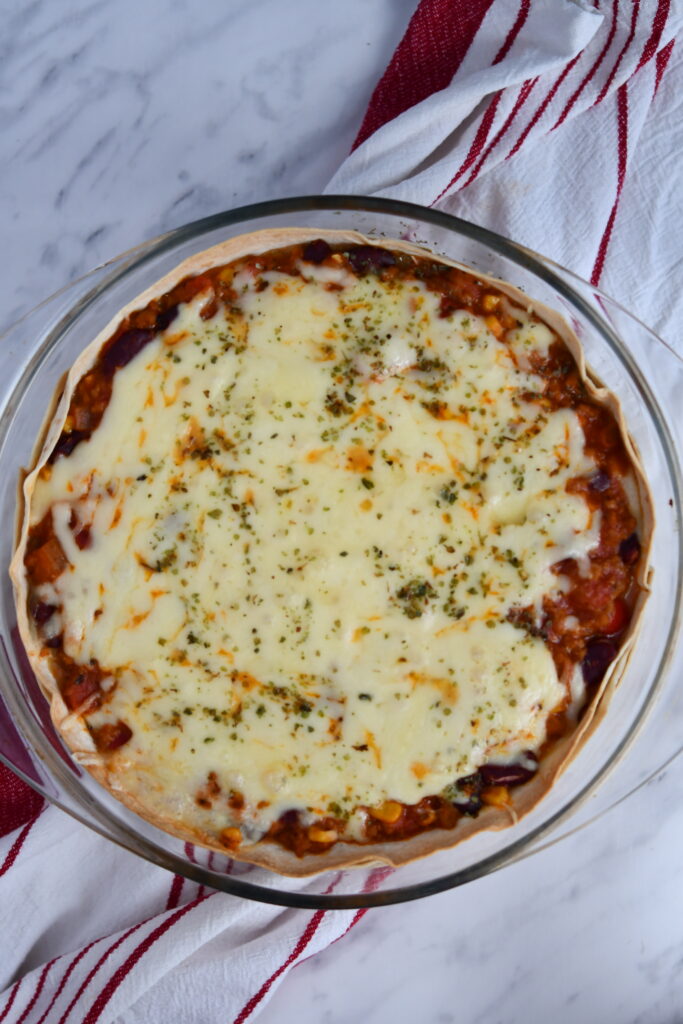 Ingredients:
1 large onion, chopped
3 cloves of garlic, minced
1 diced chili (optional)
500 g of ground pork
1 can (400g) of canned tomatoes with marinade
100 ml of passata
1 can (400 g) of red beans
1 small can (150g) of corn
1 tablespoon of chopped fresh parsley
5 pieces of tortillas
1 teaspoon of Provencal herbs
1 teaspoon of sugar
2 teaspoons of sweet pepper
salt and pepper to taste
2 eggs
200 g of grated yellow cheese
dried marjoram for garnish
butter for greasing
oil for frying
Procedure:
Heat the oil in a frying pan and fry the onion until it is glass-colored. Add garlic and chili and fry together for a while. Add the meat and sauté until the meat changes its color. Add canned tomatoes, passata, Provencal herbs, sugar, salt and pepper. Simmer the whole, without cover, until the sauce is reduced and thick (about 20-30 minutes). After this time, add the corn, parsley and beans, stew them together for about 5 minutes, season to taste and leave to cool. When the meat is cooled enough, add the eggs and mix everything thoroughly (if the meat is hot, the eggs will set). Grease a heat-resistant dish (preferably round) with butter. Put the tortilla with a layer of meat and some grated cheese on it. Repeat until 5 layers are formed (or as many as you will have tortillas). Do not put cheese on the last layer. Bake covered in an oven preheated to 180ºC (hot air) for 20 minutes. After this time, remove the cover and sprinkle it all with left cheese (preferably leave about 80g of cheese on top). Sprinkle the whole with marjoram and bake for about 10 minutes. Serve hot 🙂
Enjoy!