Delicious and easy to prepare, very similar to a mango dessert. Wonderful strawberries, sticky rice with creamy, aromatic coconut milk is a perfect combination. Delight your family members with this extremely simple, but very tasty dessert 🙂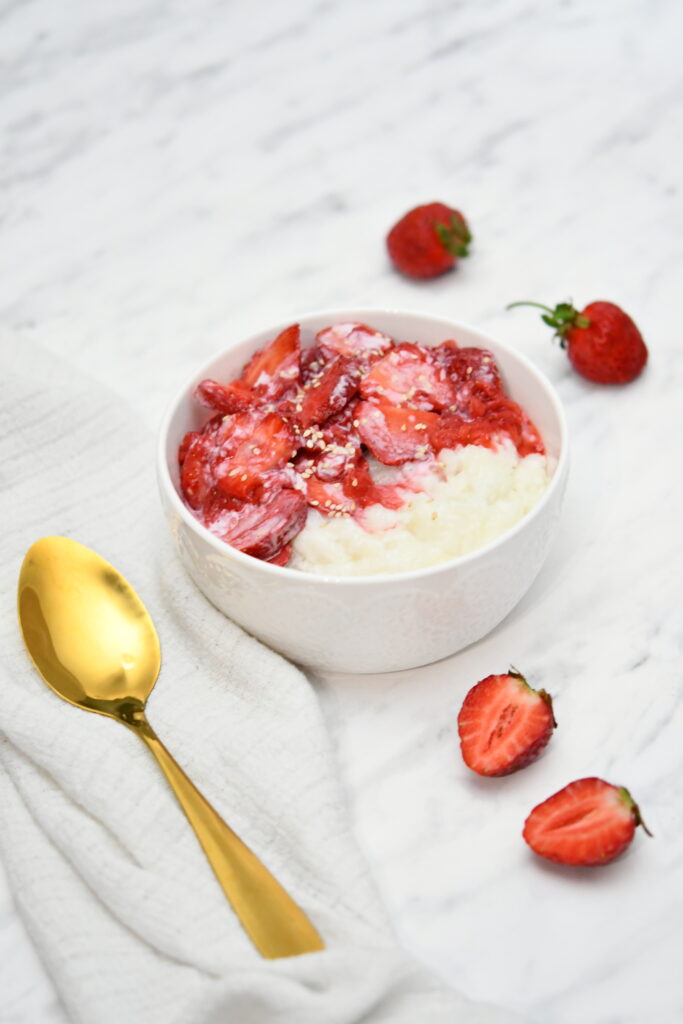 Ingredients:
1 ½ cup glutinous rice
2 cups of water
1 can coconut milk
⅓ cup sugar
¼ teaspoon salt
1 tablespoon sesame seeds, slightly toasted
200 g strawberries
Procedure:
Combine the rice and water in a pot. Bring to a boil. Cover and reduce heat to low. Simmer for 15-20 minutes or until the water has absorbed. While waiting for the rice to be cooked, mix coconut milk, sugar and salt in a saucepan over a medium heat. Allow to boil and stir until the sugar has dissolved. Remove from the heat. Pour out ¼ cup of the coconut milk mixture and reserve for serving. Stir the cooked rice into the coconut milk mixture until it becomes thick porridge consistency. Cover and allow to cool for an hour or until the rice absorbs the coconut milk. Cut the strawberries into slices and mashed by fork. Place into a serving dish with cooked sticky rice. Drizzle reserved coconut over the top of rice and sprinkle with toasted sesame seeds 🙂
Enjoy!