A small dessert that makes a great sensation at all parties and refreshments. Simple preparation, easily available ingredients, and the taste will knock you off your feet. Perfect for coffee or tea, for children or adults, just for any occasion for everyone 🙂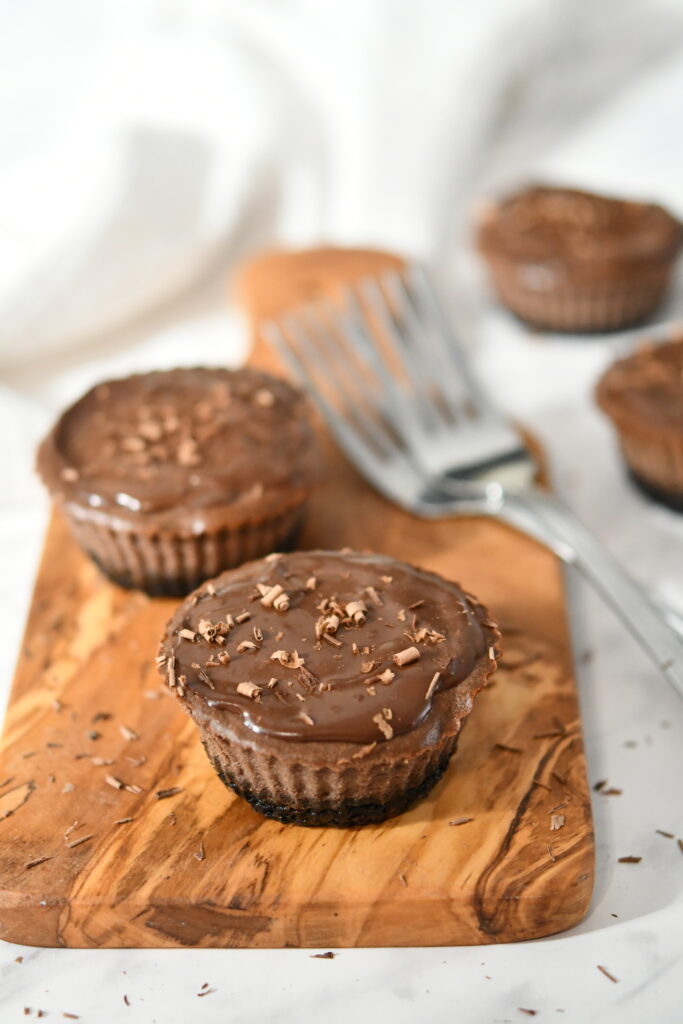 Ingredients:
Crust:
12 oreo cookies, crushed
3 tablespoons butter, melted
Curd:
1 kg of cottage cheese for cheesecake at room temperature
1 packet of cream pudding
170 g of sugar
4 eggs at room temperature
2 heaped tablespoons of cream 18% at room temperature
3 tablespoons of cocoa
Ganache:
100 g dark chocolate, chopped
200 g heavy cream or cream 30%
Procedure:
To make the crust, line a 12 muffin pan with cupcake liners. Combine the crushed oreo cookies and melted butter. Pour in 2 tablespoons of the crust into each muffin liner and press tightly into the bottom. Meanwhile, mix the cottage cheese, eggs, sugar, pudding and cream together in a bowl until smooth. Add the cocoa and mix gently with a spatula or spoon. Pour the cheesecake mixture into the prepared oreo crust and spread. Place the cheesecake in an oven preheated to 150°C (hot air) and bake for 18-20 minutes. After this time, turn off the oven and gently open the oven door. Leave the cheesecake inside for a dozen more minutes before taking it out. Cool the cheesecake in the fridge for 4 hours or preferably for a night before serving. While waiting for the cheesecake to cool, make the ganache. Boil the cream into a saucepan over medium heat and pour into the chopped chocolate. Stir until chocolate has melted and thickens. Spread 1-2 tablespoons of ganache over each cheesecake and sprinkle with grated chocolate 🙂
Enjoy!