Great dish for special occasions or just a delicious lunch or dinner. To be honest I was very surprised that cooked olives taste so good. The combination of wine and olives gives the meat a really interesting taste, expressiveness, and the duck is juicy 🙂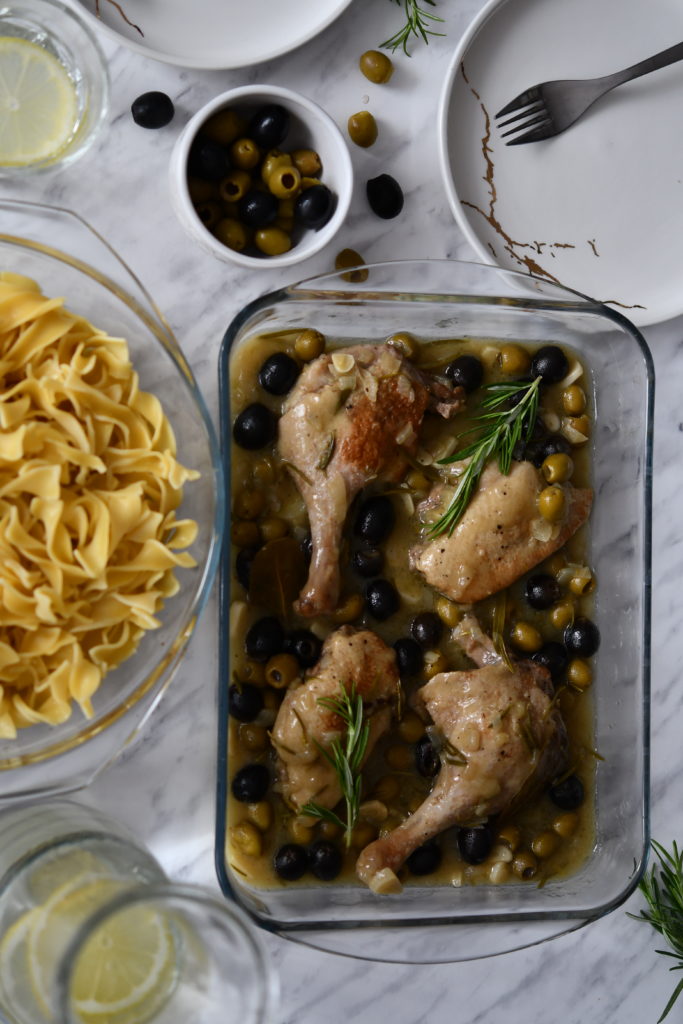 Ingredients:
duck (about 1.5 kg)
1 onion, diced
5 garlic cloves, cut into slices
2 sprigs of rosemary leaves without stalks
200 ml white wine
100 g green olives
100 g black olives
a teaspoon of butter
1 tbsp oil
2 bay leaves
1 teaspoon flour
salt and pepper
Preparation:
Divide the duck into portions (breasts and thighs with lower legs). The body, neck and wings will not be used, so it is worth making broth out of these ingredients. Wash the meat, dry and season with salt and pepper on each side. Heat oil with butter in a frying pan. When the frying pan is medium heated, put the duck skin down. Fry for 5-7 minutes, turn the duck over and fry another 5-7 minutes on the other side until golden brown. After frying, move the duck to a separate bowl. Remove ¾ oil from the pan and add garlic and onion. Fry for a few minutes until a glass color is obtained. Add leaves from one sprig of rosemary and bay leaves and fry for 3 minutes. Add fried duck with olives and stir. Pour white wine and mix again. Add the remaining rosemary leaves and cook for 3 minutes. Transfer everything to an ovenproof dish, covered and bake for 40 minutes at 200ºC. After baking, transfer the duck to the plate and pour the rest into the pan. Boil to reduce the sauce. Mix the flour in cold water and add to the boiling sauce to thicken it. Pieces of duck with freshly prepared sauce. Decorate the dish with fresh sprigs of rosemary and serve with pasta 🙂
Enjoy!