Pork stew stewed in whole, with juicy and soft meat slowly cooked in soy sauce and other spices is a very popular Filipino dish. The addition of beans in tomato sauce additionally enriches the taste of this dish. A great idea for a delicious lunch or dinner 🙂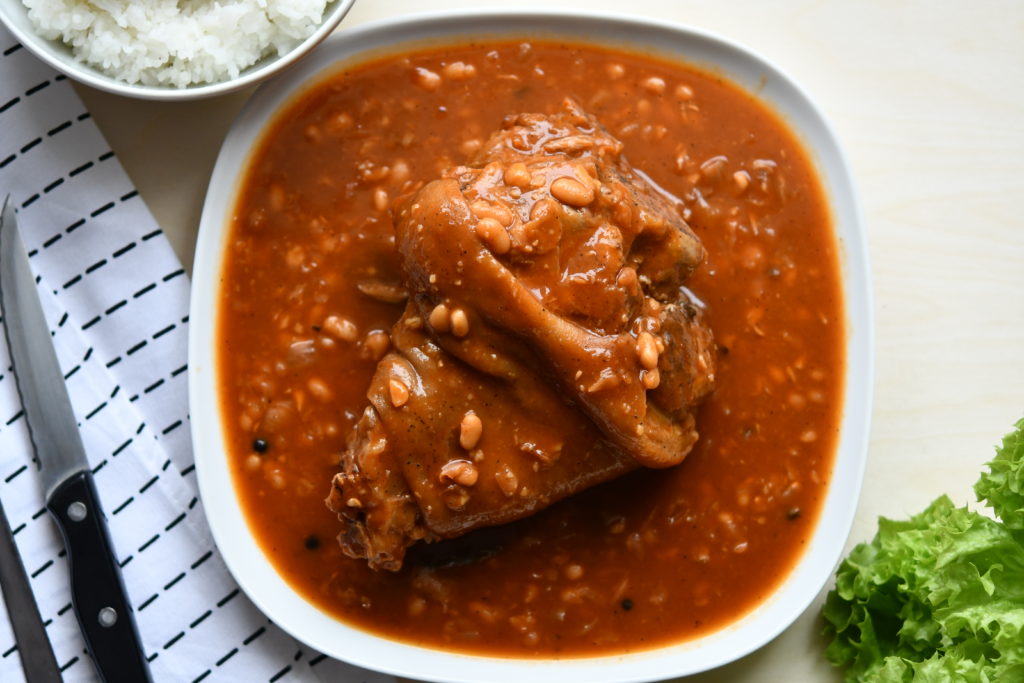 Ingredients:
1 pork leg
1 onion, chopped
2 garlic cloves, minced
2 bay leaf
3 pepper balls
3 allspice balls
1 can pork and beans
2 tbsp soy sauce
1 tbsp brown sugar
1 cup water
salt and pepper to taste
oil for frying
Procedure:
Rub pork leg with salt and pepper. Heat the oil into a pan over a medium, fry the pork leg in each side until it turns into a golden brown color. In a big pot over a medium heat, pour in the water. Transfer the fried pork leg and bring to a boil. Remove scums. Add garlic, onion, bay leaf, pepper balls, allspice balls and cover and simmer for about 30-40 minutes or until pork is tender. Pour in soy sauce, brown sugar and mix. As the water has reduced, add the pork and beans. Season with salt and pepper. Serve with boil rice. 🙂
Enjoy!