Cheesecakes are one of my favorite desserts. However, hot days are approaching, during which you do not want to be around in a hot oven. The perfect solution are cheesecakes without baking that comes from the fridge. Easy and delicious with the addition of rhubarb we have a really nice dessert for warm days 🙂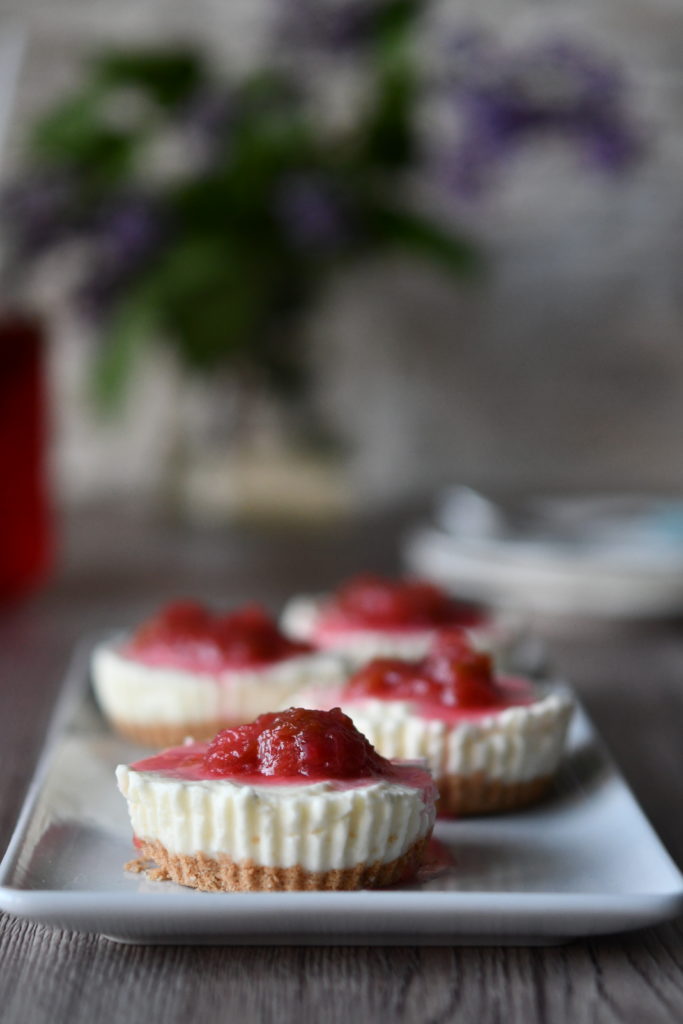 Ingredients:
Rhubarb Filling:
30 grams rhubarb, cleaned and chopped
3 tablespoon sugar
⅓ cup water
Graham Cracker Crust:
2 cups graham cracker crumbs
⅓ cup brown sugar
½ cup butter, melted
Cheesecake:
250 g mascarpone or cream cheese, softened
½ cup powdered sugar
½ teaspoon vanilla extract
1 tablespoon lemon juice
2 ½ tablespoon sour cream
200 ml cream 30 %
Procedure:
Pour the water into a saucepan over a medium heat. Add chopped rhubarb and bring to a boil until it soften. Add sugar and mix. Simmer until it thickens. Set aside. To make the crust, combined graham cracker crust ingredients into a bowl. Pour in 2 tablespoon of graham crust into each of muffin liner into a muffin tray and press tightly into the bottom. In a large mixing bowl, put cream cheese and mix using an electric mixer until creamy and smooth. Add powdered sugar and mix until well. Scrape down the sides and up of the bottom of the bowl using a rubber spatula. Pour in lemon juice, vanilla extract and sour cream and mix thoroughly. In a different mixing bowl, pour in the cream and mix on a high speed until became fluffy. Fold in the cream slowly into the cream cheese mixture and mix until well combined. Put the cream cheese mixture into prepared graham cracker crust and spread. Cover and chill for 3-4 hours. Add the rhubarb filling on top and serve.
Enjoy!