Traditional Polish potato pancakes, simple, cheap, crispy and extremely tasty. They go well with both stew and a simple snack. They are perfect for sweet, salty or spicy. Great for both adults and children, and my favorite version is potato pancakes with sour cream 🙂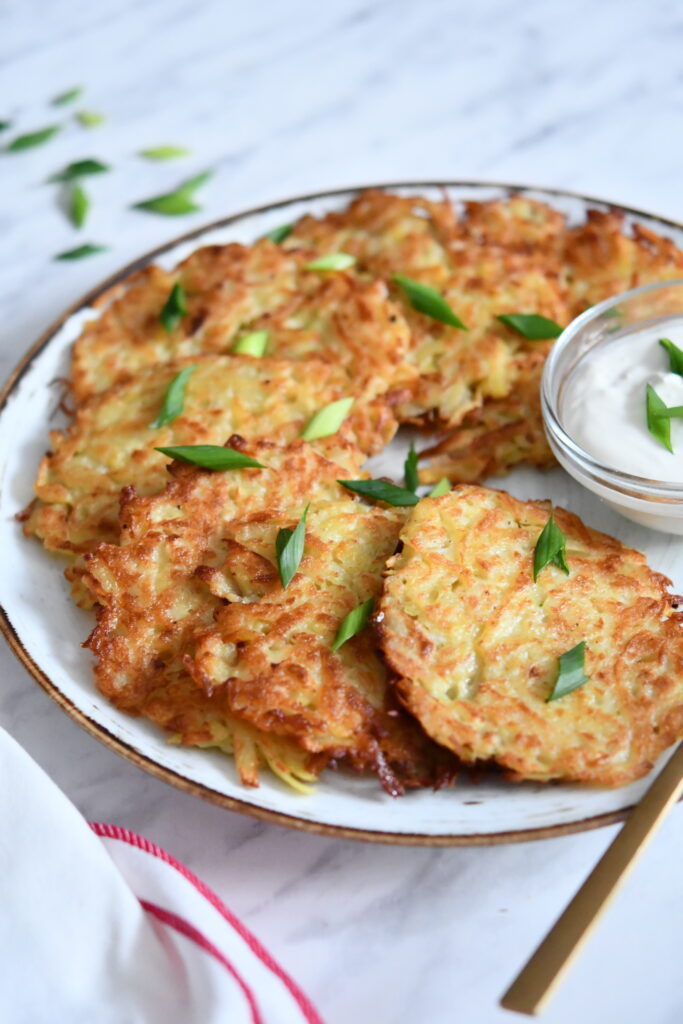 Ingredients:
500g of potatoes
½ tablespoon of flour
1 medium-sized onion
1 egg
salt and pepper
oil for frying
onion grass for garnish
3 tablespoon sour cream (optional)
Procedure:
Peel the potatoes and grate them on a fine grater directly into a large bowl. Leave them in the bowl, tilt the bowl lightly and leave it for about 5 minutes. In the meantime, pour off the collecting juice, gently holding the potatoes. Finally, press your hand into the bowl and pour out even more juice. Add flour, finely grated onion, egg and two pinches of salt and mix. Meanwhile, heat the pan over medium heat, pour some oil. Put portions of the mass (1 full spoon) on the hot oil and spread it on a fairly thin cake. Fry on medium heat for 2-3 minutes until golden brown, turn over and repeat the frying. Set aside on a plate lined with paper towels. Potato pancakes are best served straight from the pan when they are crispy and with cream and chopped onion grass 🙂
Enjoy!