Because weekend is here, I think of something special to put on the table for our family lunch. So i make Pork Caldereta a Filipino pork stew made of pork ribs with its savory taste of tomato and pineapple. This dish was always prepared by my family during special occasions. My Uncle Liniel prepares the best version of caldereta and I got this family recipe from him. My husband loves this delicious dish that he would always ask me to cook again 🙂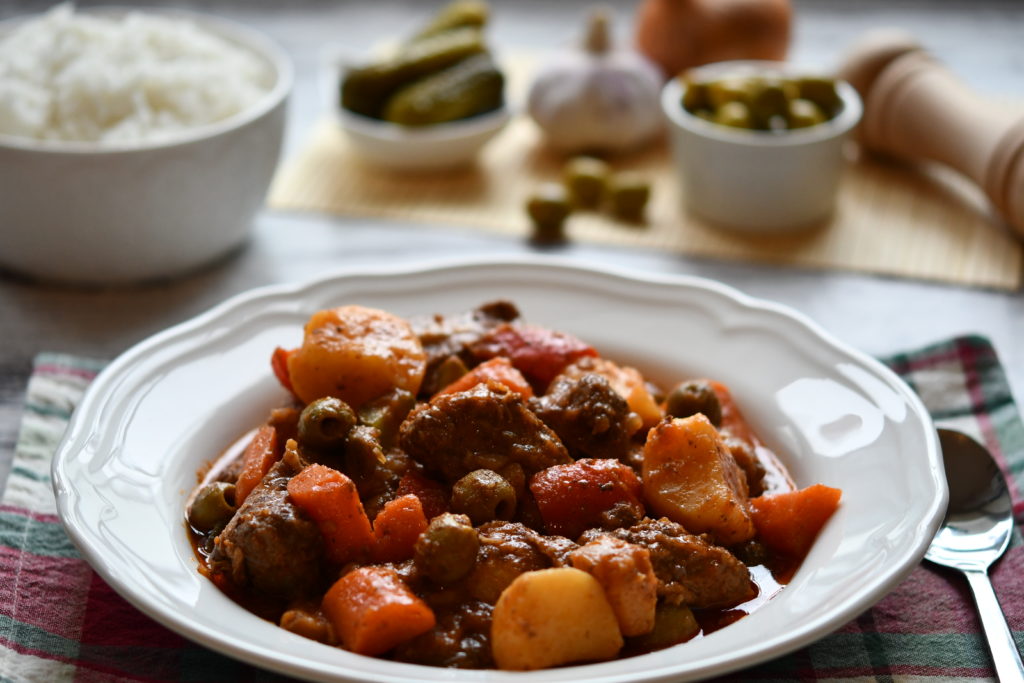 Ingredients:
1 kilo of pork ribs, cut into 1 ½ inch
2 garlic cloves, minced (half for marination)
1 medium red onion, chopped (half for marination)
3 tbsp soy sauce
2 tbsp lime
4 small pickles,
1 red bell pepper, cut into big cubes
2 medium size carrots, cut into big cubes
3 medium size potatoes, quartered
250g tomato sauce
280g pineapple chunks with light syrup
150g olives
salt and pepper
60g cheddar cheese, grated
oil for frying
Procedure:
Put the cutted pork ribs in a big bowl. Put soy sauce, lime, garlic, onion, salt and pepper and marinate in for an hour. Heat the oil in a cooking pot over a medium heat. Saute garlic and onion. Add the marinated pork ribs. Stir and cook for about 10 minutes or until color turns into light brown. Pour-in pineapple juice. Add cheese and tomato sauce and stir. Cover and cook for about 30 minutes or until the meat is tender. Add the carrots and potatoes. Stir and cook covered for 10 minutes. Add bell peppers, pickles and olives and cook for another 8 minutes. Season with salt and pepper. Serve it with warm boiled rice.
Enjoy!