Crispy Christmas cookies with a beautiful appearance and great taste. Colorful M&M's candies and Pretzels immediately encourage everyone to try them. Simple recipe, simple execution, and the effect is truly heavenly 🙂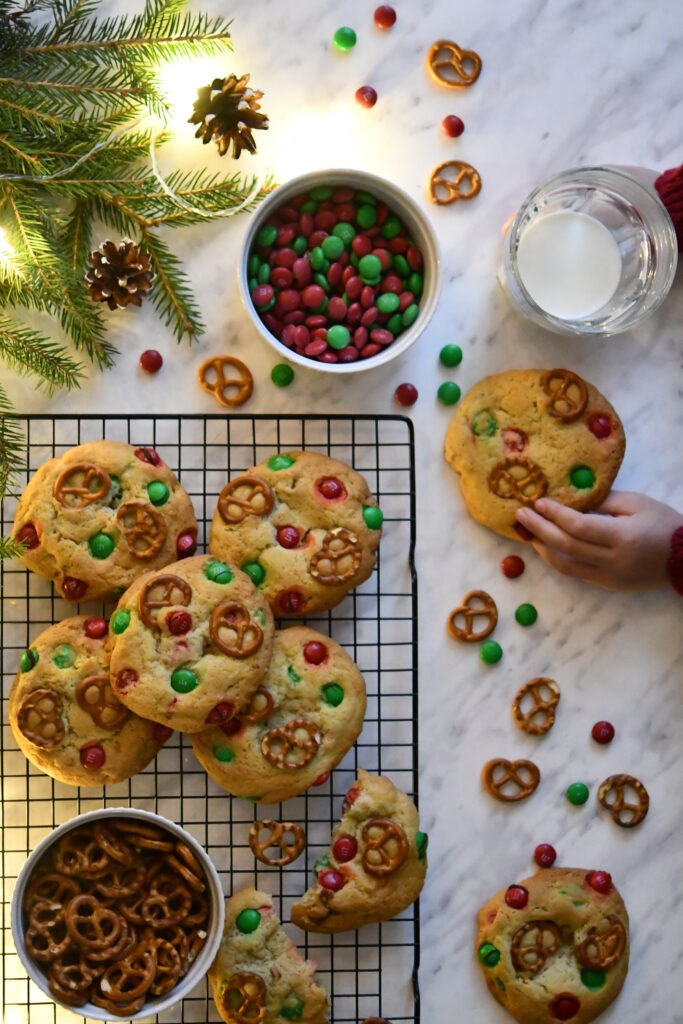 Ingredients:
1 cup butter
1 cup light brown sugar
¾ cup granulated sugar
2 large eggs
1 teaspoon vanilla extract
3 cups flour
1 teaspoon baking soda
1 teaspoon sea salt
1 cup pretzel, crushed
1 cup christmas M&M's
Procedure:
In a mixing bowl, cream together the butter and sugars for 2-3 minutes or until creamy and fluffy. Add the eggs and vanilla and mix until well combined. Sift in flour, baking soda and salt and mix well. Fold in the M&M's and pretzels. Make a ball of dough and refrigerate for 30 minutes or preferably for a night. Remove the dough from the refrigerator and allow it to rest for 5-10 minutes. Preheat the oven for 180 C. Line two baking sheets with parchment paper. Using a cookie scoop, scoop the cookie dough into the prepared parchment paper about 2 inches apart.
Put any extra extra M&M's and pretzels on the top. Bake for 10-12 minutes or until it turns golden brown. For a bigger cookie, bake it for 15-17 minutes. Allow the cookie to sit for 5 minutes before transferring it to the cooling rack. Store once cold in an airtight container. 🙂
Enjoy!