Another Halloween idea and again a layout for kids (they're delicious for adults too). Nice, sweet, chocolate cakes are a perfect idea for various events, small, sweet eyes on crispy sweets will make everyone smile 🙂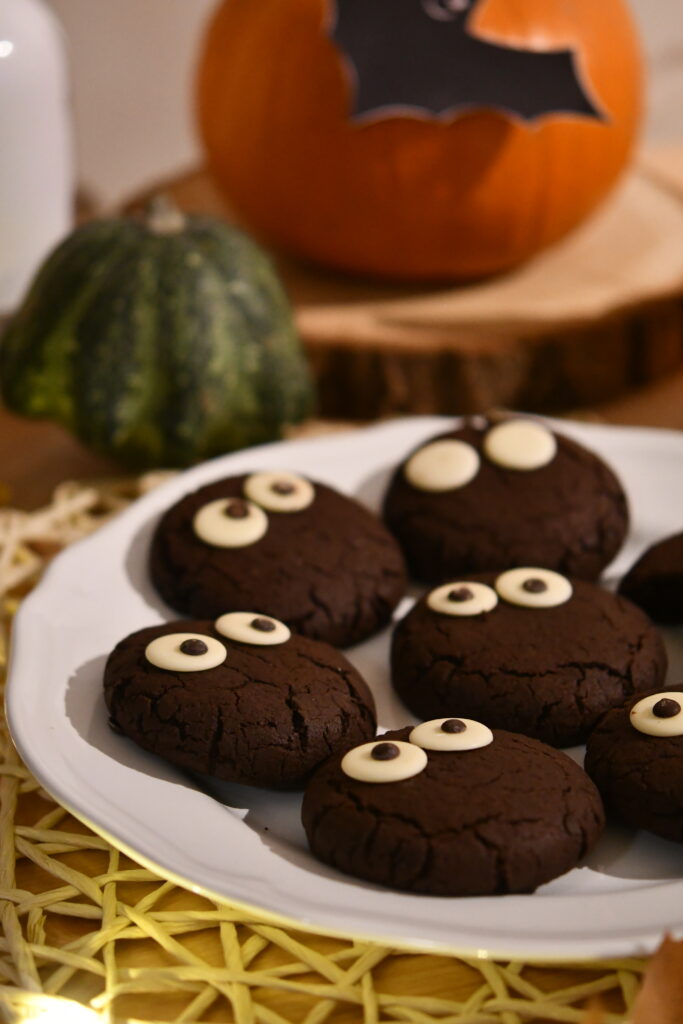 Ingredients:
½ butter, at room temperature
¾ cup white sugar
1 large egg
1 teaspoon vanilla extract
1 ½ cup flour
½ cup cocoa powder
1 teaspoon potato flour
¾ teaspoon baking soda
white round chocolate chips
dark chocolate chips
Procedure:
Combine butter and sugar into the mixing bowl until light and fluffy. Add egg and vanilla and mix well to combine. Sift in flour, cocoa powder, potato flour and baking soda. Mix into low speed until well combined. Scrape down the sides and mix for another 1 minute. Cover and refrigerate for an hour. Preheat the oven 180C. Scoop the cookie dough and place into a baking tray lined with baking paper. Flatten the dough using your hands or a glass. Bake for 7-8 minutes. Remove from the oven and allow to cool. Decorate with white and dark chocolate chips on top to make spooky eyes.
Enjoy!