Cranberries and oranges always remind me of Polish holidays. I wanted to find a way to prepare a beautiful roast duck with the aroma of these fruits. This is how this extremely tasty roast duck recipe was created, with sweet cranberry-orange filling and honey glaze giving the duck a beautiful color 🙂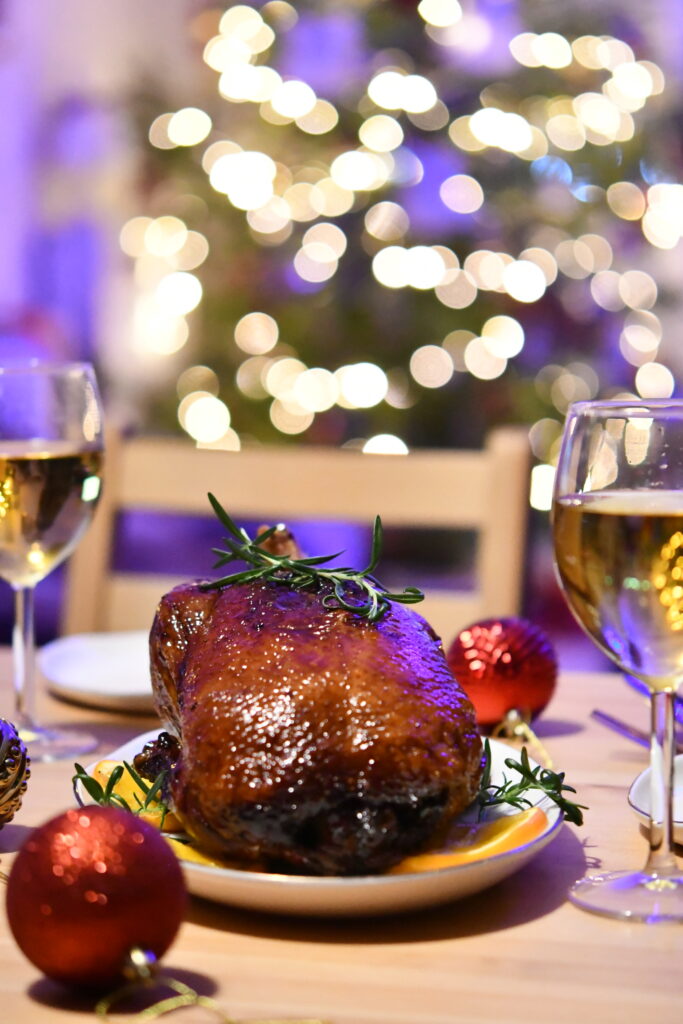 Ingredients:
1 duck (2 kg)
2 oranges, peeled and sliced
100 g dried cranberries
50 g of butter
50 g of sugar
2 sprigs of rosemary
3 tablespoons of honey
3 garlic cloves, minced
salt and pepper to taste
Procedure:
Melt the butter in a pan, add the sugar and cook until the sugar dissolves. Add the oranges and cook over low heat for about 15 minutes, stirring occasionally. Add the cranberries and cook together for about 3 minutes. Leave to cool. When the oranges and cranberries are cool, put them in the duck, add some sprigs of rosemary, fold the rump inside and tie the legs of the duck so that the stuffing does not fall out. Sprinkle the duck with salt and pepper on all sides and put in the oven preheated to 200°C (top and bottom) for 30 minutes. Roast the duck on the grill, and place a tray under the grill to catch the fat. In the meantime, prepare the glaze. Pour honey into a saucepan, add chopped rosemary leaves and garlic. Heat until the honey starts to foam. Reduce the oven temperature to 180°C and brush the duck with the glaze. Grease every 15 minutes (at the end of frying, you can smear the melted fat on the baking tray). Bake the duck for another hour and a half (the length of baking depends on the size of the duck). Remove from the oven, let the duck rest for about 10 minutes covered with aluminum foil and served.
Enjoy!