Simple, tasty and fluffy yeast dough rolled in a spiral shape with lots of cinnamon, sweet and crunchy sugar and delicious cranberries. These buns taste great both hot and cold, a perfect sweet snack for coffee or tea 🙂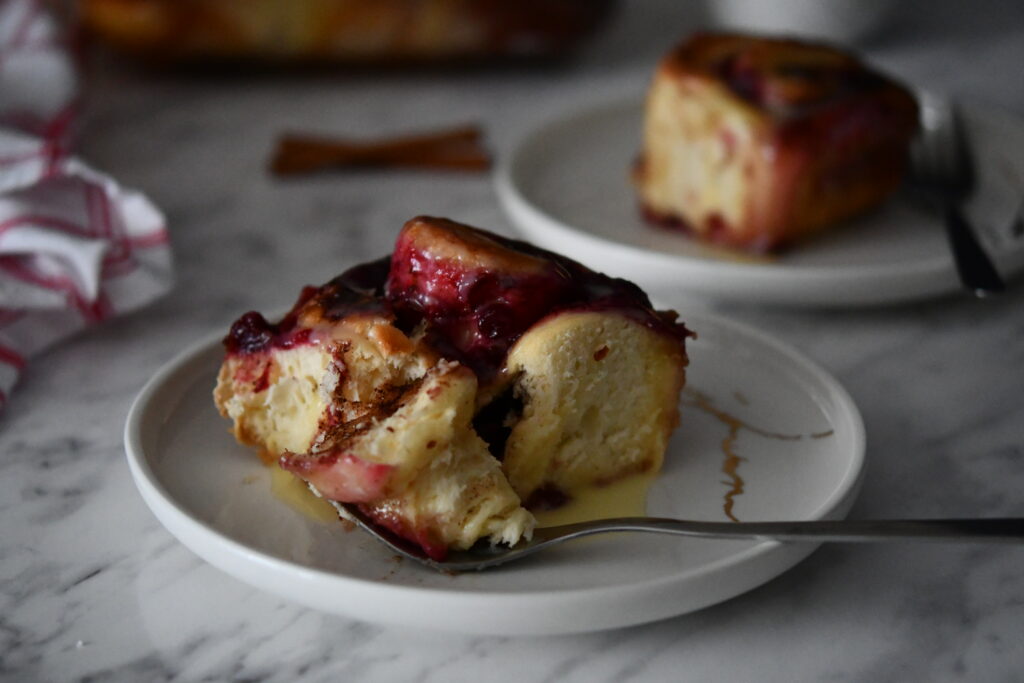 Ingredients:
For the dough:
1 cup warm milk
2 ½ teaspoon of dry yeast
2 large eggs
⅓ cup butter, melted
4 ½ cups of flour
1 teaspoon of salt
½ cup sugar
For the filling:
½ cup salted butter, melted
1 cup brown sugar
2 tablespoon of cinnamon powder
½ cup cream 30 %
7-8 tablespoons of cranberry preserves
For the frosting:
250 g cream cheese, softened
⅓ cup butter, softened
powdered sugar to taste
½ tablespoon vanilla extract
Procedure:
Pour in the milk into a bowl and sprinkle yeast. lMix and allow to sit for 10 minutes until bubbly. Add eggs, butter, salt and sugar. Sift in the flour and beat at a medium speed until well combined. Knead the dough for 10 minutes until it becomes smooth and elastic. Spray a large bowl with oil and place the dough on it. Cover the bowl with a towel and allow the dough to rise for 30 minutes in a warm place. By this time, prepare the filling. In a medium bowl, combine butter, brown sugar and cinnamon. Mix until well combined. Set aside. Sprinkle the rolling board and pin with flour. Roll the dough for a rectangular into a 24×12" rectangle that is about 1/4″ thick. Spread the cinnamon filling over the whole dough rectangle using a rubber spatula. Spread the cranberry preserves on top. Roll the dough tightly. Cut for 12 slices and place into a greased rectangular baking dish. Cover and allow the dough to rise again for 30 minutes. Once the dough has risen, pour in the cream over the top of the rolls. Bake at 190ºC for 20 minutes or until the rolls are lightly golden brown. Allow the rolls to cool. By this time, prepare the frosting. Combine the cream cheese and butter in a large mixing bowl. Mix. Add in sugar and vanilla extract and mix until well combined. Spread the frosting over the rolls. Serve 🙂
Enjoy!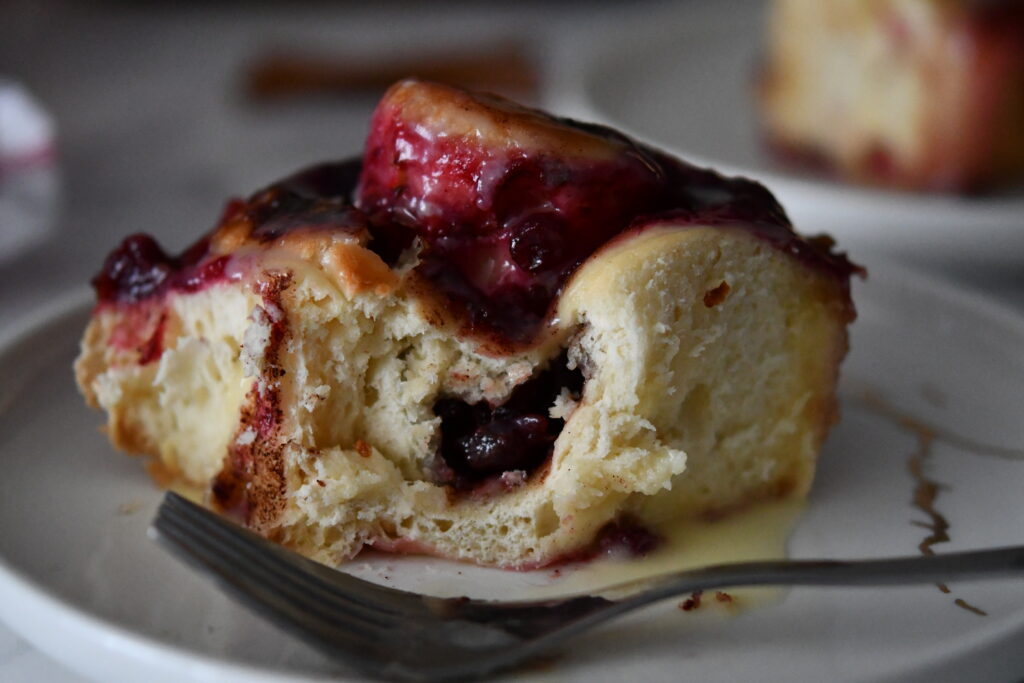 brown sugar
,
butter
,
cinnamon
,
cranberry
,
cream cheese
,
egg
,
flour
,
mascarpone
,
milk
,
powdered sugar
,
roll
,
salt
,
sugar
,
sweet cream
,
vanilla
,
yeast