I like such dishes because they are just easy to prepare, light, aromatic, tasty and most importantly, they contain a lot of delicious and healthy vegetables. Together with pasta, they make a very tasty composition for a simple and quick lunch 🙂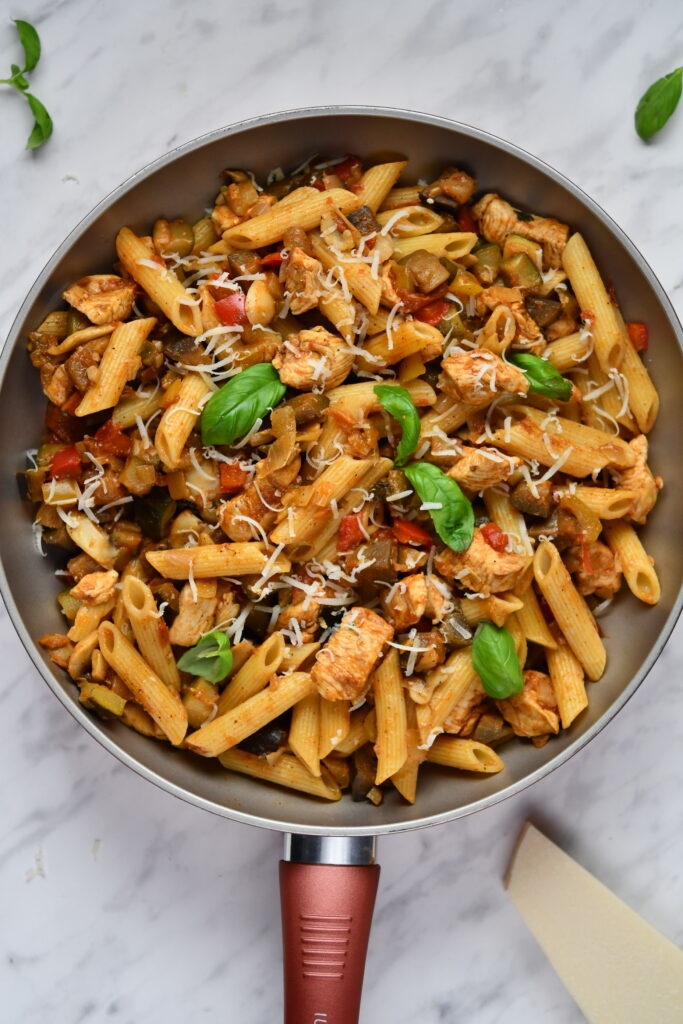 Ingredients:
250 g penne pasta
250 g chicken breast, cut into big cubes
1 onion, chopped
2 garlic cloves, minced
1 eggplants, cubed
1 zucchini, cubed
1 big tomatoes, cubed
6 pieces of mushrooms, sliced
1 yellow bell pepper, cubed
1 red bell pepper, cubed
1 can of chopped tomato sauce
2 tablespoons of chopped fresh basil leaves
salt and pepper
3 tablespoons of olive oil
1-2 tablespoons of grated parmesan cheese
Procedure:
Bring a 4-quart pot of water to boil. Add a pinch of salt and a little olive oil to the water. Add pasta and cook according to package instructions. Drain and set aside. Heat the oil into a pan over medium heat. Add chicken and cook until lightly brown and tender. Add in onion, garlic and vegetables. Continue cooking, stirring for 10 minutes or until soft. Add a can of chopped tomatoes. Stir and simmer until thickens. Add the chopped basil leaves. Add the pasta into the pan and mix together with chicken and vegetables. Season with salt and pepper and stir for 1 minute. Serve with parmesan cheese 🙂
Enjoy!