Minced meat is very often used in my kitchen. From minced cutlets, through spaghetti, to meatball soup. This time I decided to make a delicious and extremely effective roast with minced meat, bacon and cranberry and cheese filling. The visual and taste affect knocks you off your feet, the dish is delicious and you will surely hear requests for more 🙂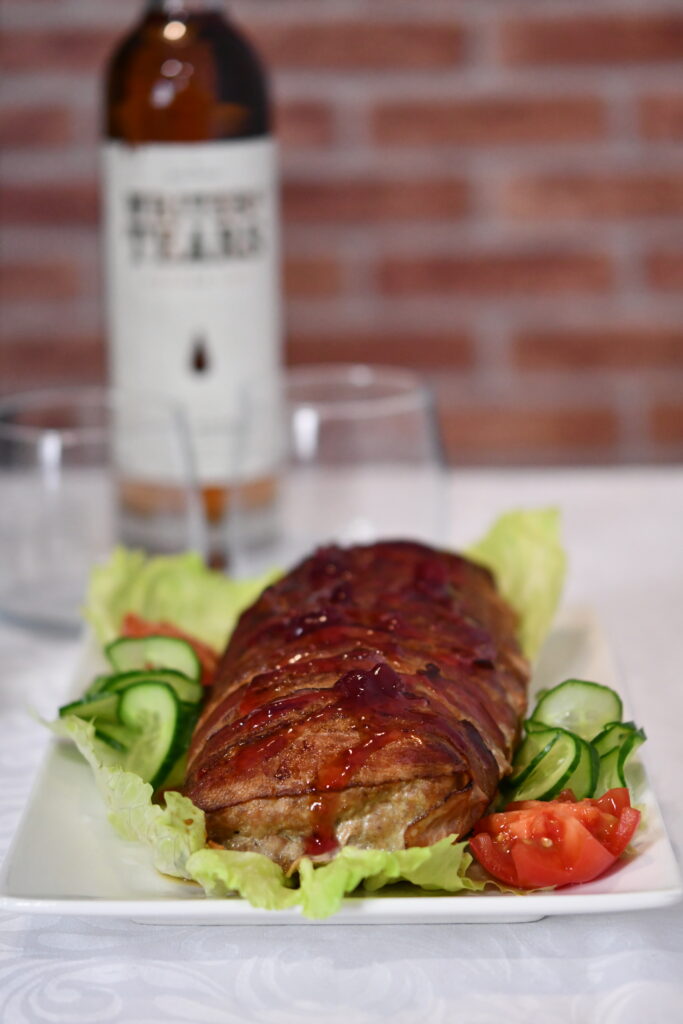 Ingredients:
700-800 g of minced pork
2 medium onions, grated in a blender
3 garlic cloves, grated in a blender
200 g of cheese, sliced ​​or grated
200 g of smoked bacon in slices
1 egg
3 tablespoons of breadcrumbs
½ vegeta or universal seasoning
3-4 tablespoons of cranberry jam
salt and pepper to taste
spoon of oil
Procedure:
Heat a frying pan over low heat and fry the onion and garlic in the oil until the glass color. Add vegeta and cook together for a while. Pour into a bowl. In the same bowl, add the minced meat, egg, breadcrumbs, salt, pepper and mix thoroughly. Prepare a rectangular baking paper and roll out the dough into a rectangular shape about 0.7 cm thick. Spread the top with 3 tablespoons of cranberries and place the cheese evenly. Wrap the meat with paper for a roll. Place the bacon slices perpendicular to the roll and re-wrap so that the minced meat is wrapped with the bacon. If your slices are too short, try to wrap them so that the bacon is on top of the roll. Transfer the roulade together with the baking paper to a baking sheet and bake it at 180°C (heating element up and down) for 40-45 minutes. After taking it out of the oven, let the meat rest for 15 minutes. You can top the roulade with cranberry jam. Serve with fresh vegetables and potatoes 🙂
Enjoy!