Cauliflower pizza is a lighter and diet version of the classic pizza. This dish can be  prepared much faster because you don't need to wait for the dough to rise. But the taste is brilliant, similar to a classic pizza, and the aroma stimulates the senses of everyone in the house. A simple and delicious dish that is really worth making 🙂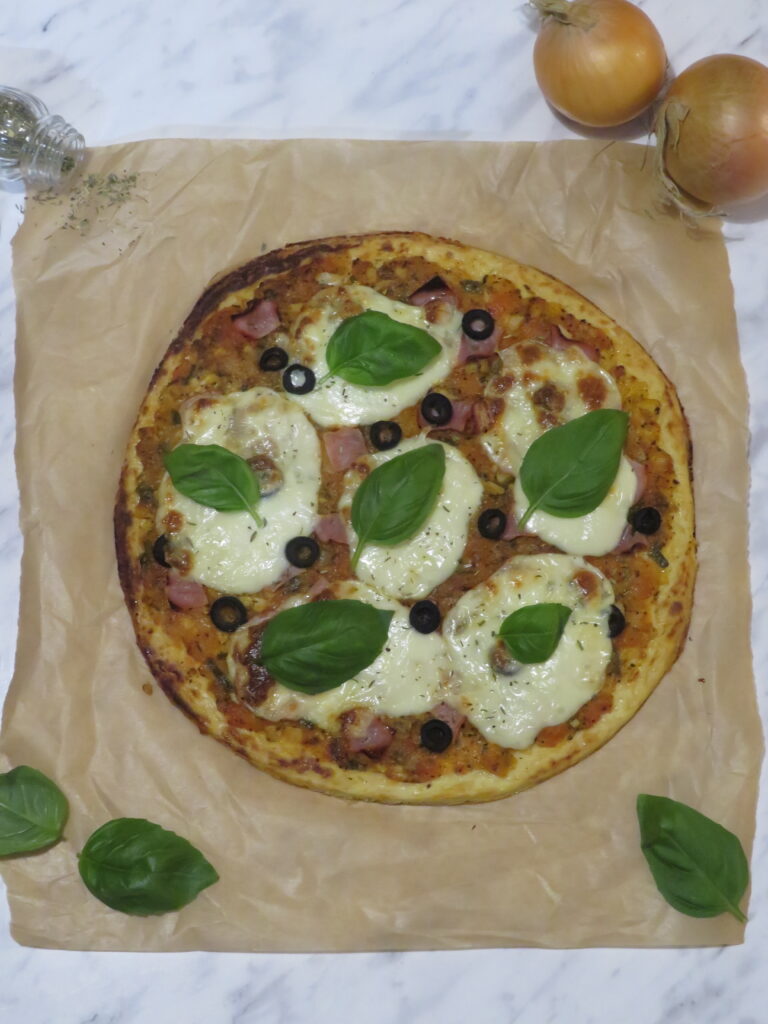 Dough:
Ingredients:
600 g of raw cauliflower, cut into florets
70 g of grated parmesan cheese
1 large egg
half a teaspoon of salt
a large pinch of pepper
spoon of oil
Procedure:
Boil the cauliflower until soft, drain it and grind it until puree with a blender. Put the puree in a muslin cloth and gently squeeze the water out of it. Transfer into a bowl. Add egg, grated cheese, salt and pepper. Mix the ingredients thoroughly with a spoon. Line a baking tray with baking paper and lightly brush the paper with oil. Spread the mass into a round shape, half a centimeter thick. Bake the finished base in an oven preheated to 200°C for about 10 minutes, until the dough is slightly brown. Pull out the dough, but do not turn off the oven. Time to pour the sauce over the cauliflower dough.
Tomato sauce (can be prepared from the previous pizza recipe)
Ingredients:
1 large tomato peeled and diced (i used raspberry tomato)
2 garlic cloves, chopped
2 small spring onions, chopped
1 tablespoon of chives
half a teaspoon of sugar (if you are on a diet, you can skip it)
half a teaspoon of oregano
half a teaspoon of basil
pinch of salt
a pinch of pepper
1 tablespoon of olive oil
Procedure:
In a saucepan, heat the olive oil. Add garlic and onion and simmer gently for 3 minutes. Add the rest of the ingredients and cook until the ingredients combine and the water reduces so that the sauce is thick. Spread the sauce evenly over the cooked cauliflower dough.
Additional Ingredients:
150 g of mozzarella cheese, thinly sliced ​​(the light version with lower fat content works well as well)
4-5 black olives cut into rings
4 slices of lean ham, cut into large cubes
a few basil leaves
1 teaspoon of Provencal herbs
Procedure:
Top any of your favorite additions or toppings over the sauce. For me it's olives, mozzarella and ham. First, put the ham and olives on top of the sauce. Cover everything with mozzarella. Put in the oven for 10-13 minutes, until the cheese melts nicely and turns brown. Remove from the oven and sprinkle the pizza with Provencal herbs and garnish with basil leaves. The dough is more delicate than the classic wheat dough, so you'd better eat your pizzas with a fork 🙂
Enjoy!