Pizza is one of my favorite dishes because it's easy and quick to make. The dough rises by itself, you can add whatever toppings you want and it tastes delicious at the end. A Halloween party is the perfect moment to prepare such a pizza according to your own artistic soul 🙂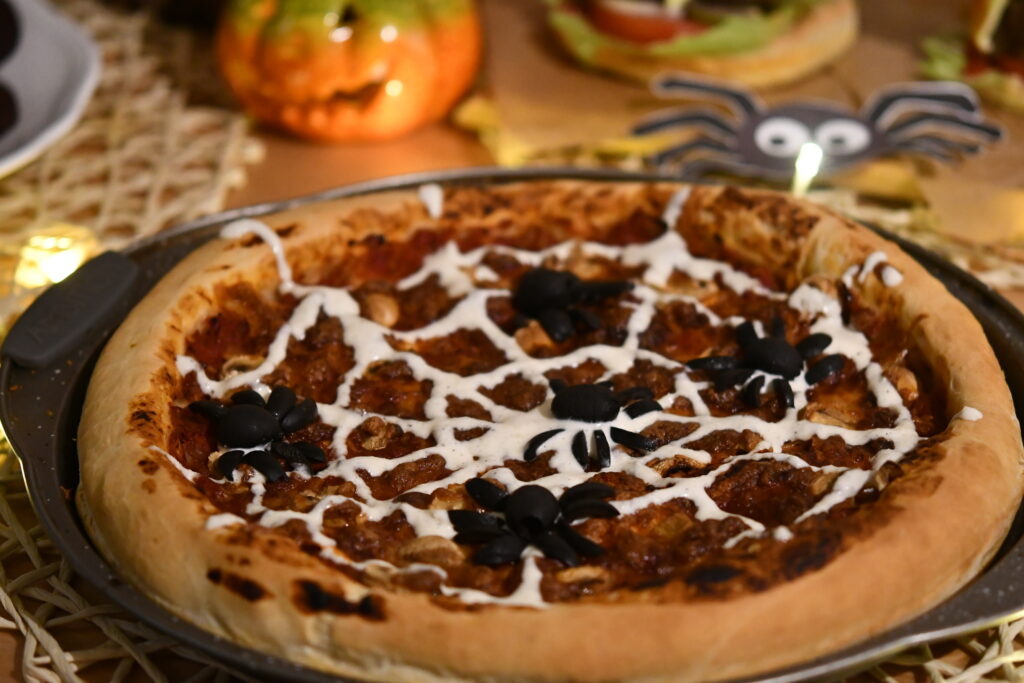 Ingredients:
For the dough:
2 ½ cups of flour
1 cup warm water
1 tablespoon of oil
a flat teaspoon of sugar
a flat teaspoon of dry yeast
pinch of salt
Procedure:
Sift-in flour into a big mixing bowl. Add salt, sugar, yeast, olive oil and water. Mix thoroughly and knead the dough into a flat surface for about 10 minutes or until the dough is uniformed.
Put the dough into a bowl and cover with a cloth. Place into a warm place and allow it to rise for an hour.
For the sauce:
1 can of canned tomatoes, skinned, peeled
1 teaspoon oregano
½ teaspoon basil
a pinch of sugar
salt and pepper
Procedure:
Pour the canned tomatoes into a saucepan, cook over a medium heat. Add spices and simmer for 8-10 minutes or until it thickens.
Additional ingredients:
100 g mushrooms, sliced
black olives
200 g cheese, shredded
garlic sauce (recipe)
Pizza:
Roll the dough into a flat surface. Make a round shape to a thick of 3-5 millimeters. Transfer the dough into the baking tray. Spread the tomato sauce on top of dough. Top with mushrooms and cheese. Preheat the oven to 230-250°C hot air and bake for 12-15 minutes. After this time, decorate the pizza and make a spider web using the garlic sauce and black olives to make spiders.
Enjoy!