I know this recipe from my mother, who often prepared such a dish for the whole family or for guests during various celebrations. A great addition to beer, but can be also a perfect snack for both older children and adults 🙂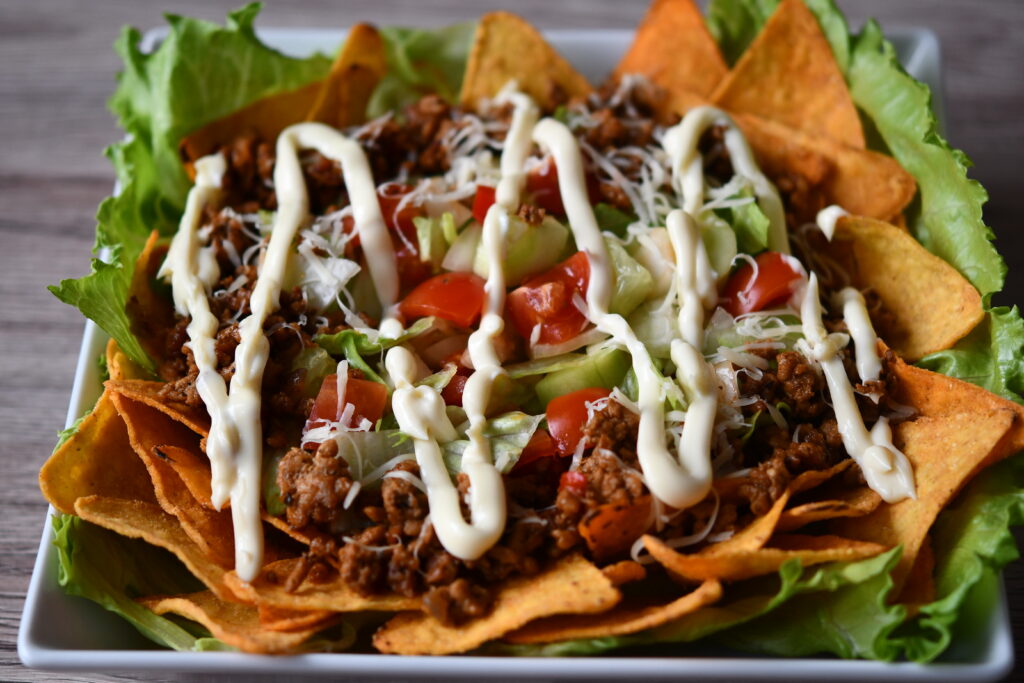 Ingredients:
1 pack of tortilla chips (cheese flavor)
500 g ground pork
1 medium-size red onion, chopped
2 garlic cloves, minced
1 can of chopped tomatoes
1 teaspoon sweet chili pepper
½ teaspoon spicy chili pepper
salt and pepper to taste
oil for frying
1 medium-size cucumber, cubed
1 big tomato, cubed
1 white onion, cubed
5 pieces iceberg lettuce, chopped
½ cup of grated cheddar cheese
2 tablespoons of mayonnaise
Procedure:
Heat oil in a frying pan over medium heat. Saute onion and garlic until onion turns into glassy. Add ground pork and break up the meat into small pieces. Cook until lightly brown stirring occasionally. Add a can of chopped tomatoes, sweet and spicy chili pepper. Stir and cook until the liquid has slightly absorbed. Season with salt and pepper. Place the tortilla chips into a serving plate. Pour the meat over the tortilla chips. Arrange the vegetables on top of the meat. Sprinkle with cheese and drizzle with mayonnaise on top. Serve 🙂
Enjoy!