I have a lot of experience with rice because I have been eating breakfast, lunch and dinner since childhood. After all, I tried this version recently and I really liked it. A simple but very tasty rice recipe rich in various flavors 🙂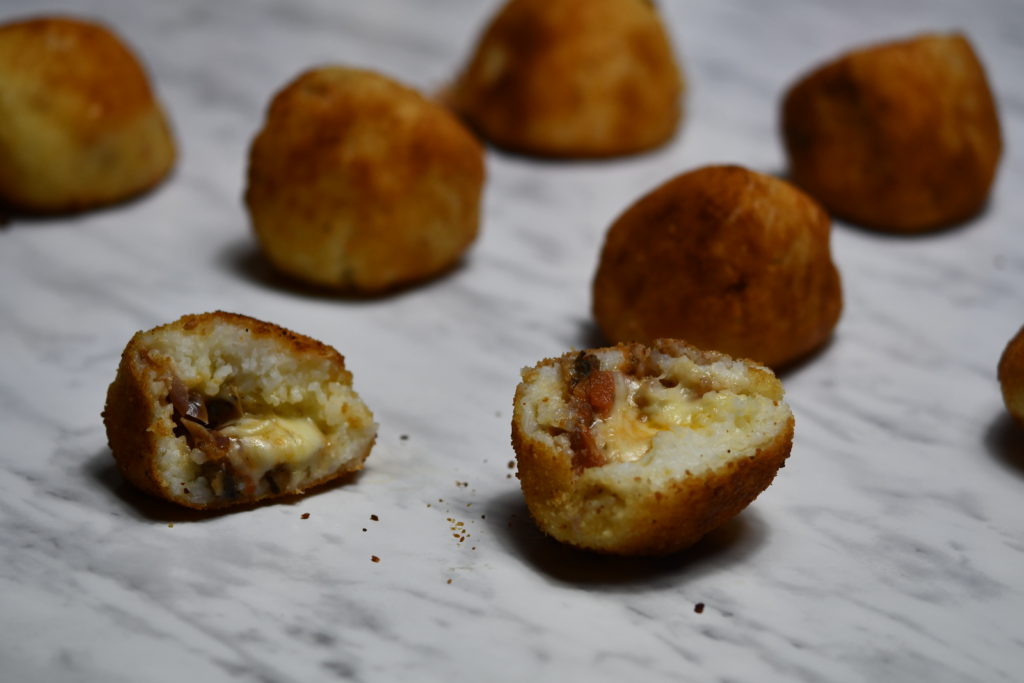 Ingredients:
300 ml white rice
2 garlic cloves, chopped
1 medium red onion, finely diced
1 large diced tomato
50 g of grated cheese
100 g mozzarella
1 beaten egg
half a tablespoon of oregano
salt and pepper
bread crumbs and flour to coat
1 tablespoon of olive oil
oil for frying
Procedure:
Cook boiled rice (must be slightly sticky). Cool and add yellow cheese to it, mix. Heat oil in a frying pan and fry the onion and garlic. Add tomato, salt, pepper, oregano and fry until the water evaporates completely. Divide the stuffing with a spoon into equal pieces (9 pieces came out for me) and cut the mozzarella into the same number of balls as portions of the stuffing. Shape the portions of rice on your palm in a circle shaped, put a spoonful of stuffing and one piece of mozzarella. Cover the ball with another portion of rice so that the stuffing closes inside. For ease, you can condense your hands with oil. Roll the ball in flour, beaten egg and breadcrumbs, and then fry the ball in hot oil on each side until golden brown. You can also fry in deep oil, then after frying put balls on a paper towel to drain off excess fat.
Enjoy!