A sweet, simple, elegant and extremely delicious dessert with caramel and bananas, and the creamy pudding with crunchy pretzel crumbs is the perfect blend of all tastes. Small jars add charm to this dessert, and a serving is perfect as a small sweet snack for everyone 🙂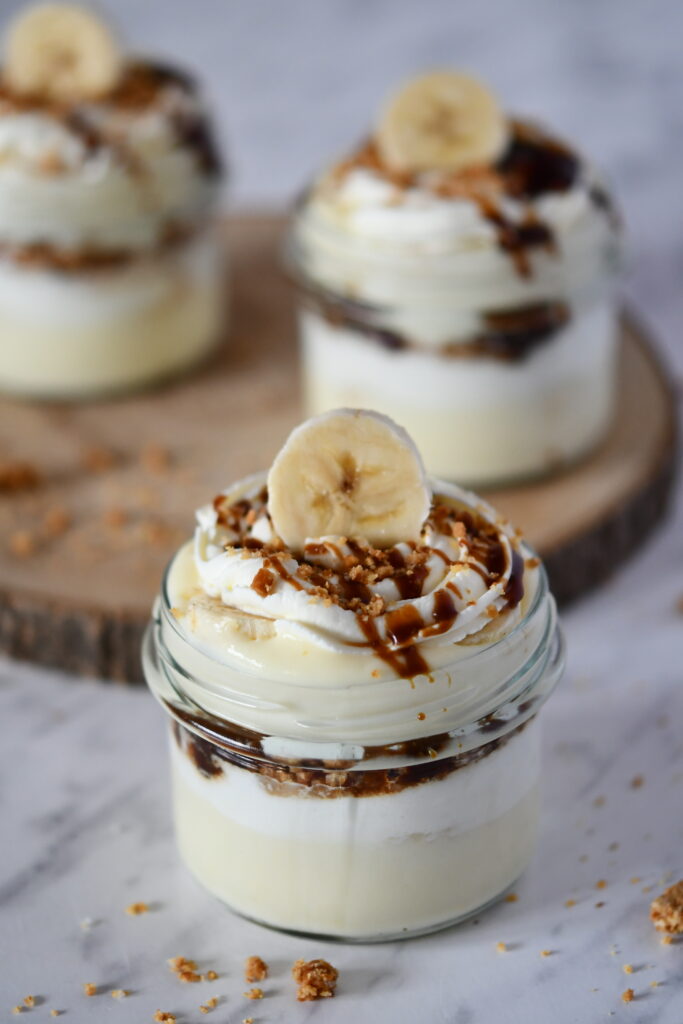 Ingredients: (4 servings)
Pretzel Crumbs:
½ cup of pretzel crumbs
1 tablespoon of sugar
½ teaspoon of cinnamon
pinch of salt
1 tablespoon of flour
¼ cup of melted butter
Pudding:
1 pack of instant vanilla pudding
500 ml milk
1 tablespoon of sugar
200 ml heavy cream
1 tablespoon of powdered sugar
2 bananas, peeled and sliced
Caramel Sauce:
½ cup sugar
⅓ cup water
70 g butter, cubed
½ flat teaspoon of fine himalayan salt
½ cup cream 30%
Procedure:
Preheat the oven to 150°C.
Pretzel Crumbs:
To make the pretzel crumbs by combining all of the ingredients. Mix until well combined. Place into a baking sheet lined with parchment paper. Bake for 15 minutes and allow to cool.
Pudding:
Make the pudding by whisking together half of milk and instant pudding powder. Pour another half of milk in a pot and boil on a low heat. Add a spoon of sugar and pudding mixture, mix until thickened. Set aside to cool. In a separate bowl whisk together the heavy cream and powdered sugar. Fold half of the sweetened cream into the cooled pudding.
Caramel Sauce:
Combine sugar and water in a saucepan over a medium heat. Stir until sugar is completely dissolved and the syrup starts to boil. Add the butter and cook, stirring occasionally until it starts to thicken and change its color. Add the salt and pour in the cream. Stir vigorously for about 1-2 minutes or until you reach the color you want but be careful not to burn it. Transfer the caramel into a glass bowl. Allow to cool and slightly thicken for the perfect consistency.
Assemble:
Layer 3 tablespoons of pudding at the bottom of a jar, add pieces of banana slices, spoonful of cream, pretzel crumbs and caramel sauce. Repeat for another layer. Top with cream, sprinkle with pretzel crumbs, drizzle with caramel sauce and top with a slice of banana 🙂
Enjoy!