Are there perfect ribs prepared in the oven? Yes, and these are just such ribs. Aromatic, sweet, spicy, juicy, the meat leaves the bones on its own, just heaven in your mouth. Preparation is extremely simple, only meat takes time, but it's really worth the wait 🙂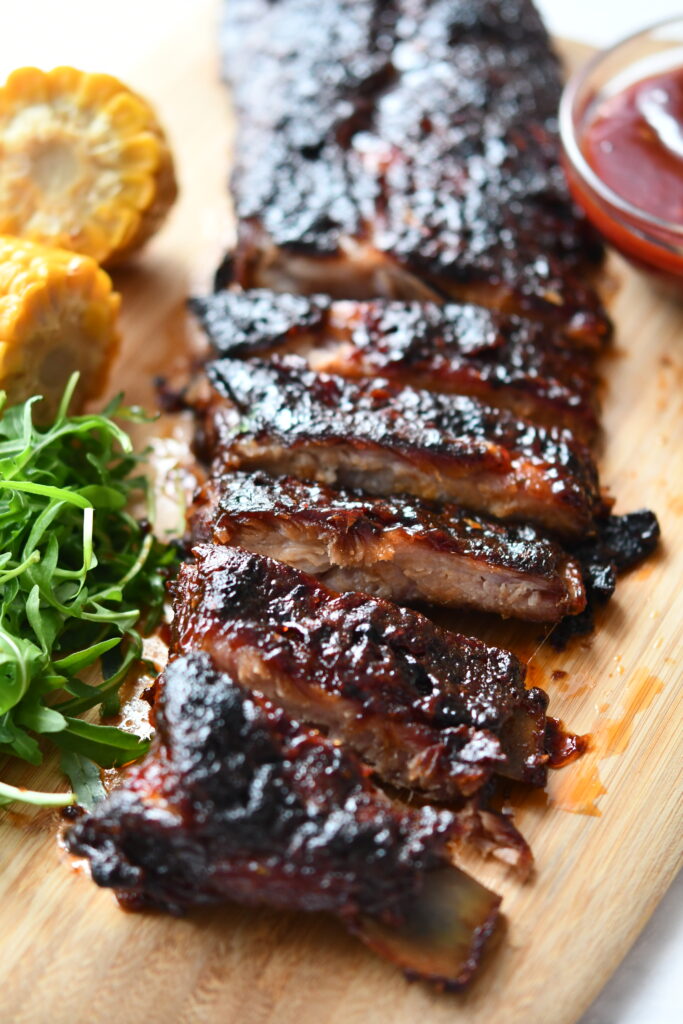 Ingredients:
Marinade:
1 ½ – 2 kg of pork ribs (preferably uniformly shaped so that they cook at the same time)
2 teaspoons of cayenne pepper
2 tablespoons of sweet smoked paprika
2 tablespoons of sweet pepper
12 bay leaves
20 grains of allspice
1 tablespoon of salt
½ cup of brown sugar
Glaze and sauce:
Juice extracted from the ribs
a glass of ketchup
3 tablespoons of apple cider vinegar
⅓ cup of brown sugar
1 tablespoon worcester sauce
Procedure:
Roast cayenne pepper, peppers, allspice, and bay leaves in a dry frying pan. Transfer to a spice pot and grate to a homogeneous powder. Add salt and sugar and mix thoroughly. Rub the ribs thoroughly with the spices on each side and refrigerate for 24 hours. After this time, pour the resulting juice from the ribs into a saucepan. Add the ingredients for the sauce to the saucepan, and heat it up, stirring from time to time. Brush the ribs with the glaze (leave the glaze for later brushing on the ribs and for the sauce). Bake the ribs in an oven preheated to 135°C for 15 minutes. After this time, reduce the temperature to 95°C and bake for 3 hours, until the meat comes off the bones. At the end, brush the ribs with the glaze again, raise the oven temperature to the maximum and bake until the ribs are golden brown. Serve with pre-prepared sauce/glaze, salad and fries 🙂
Enjoy!