Fish dishes are a great way to have a healthy and nutritious dinner. In addition, the taste of baked trout with vegetables is simply brilliant. Aromatic, easily digestible vegetables, delicious fish with the addition of butter are the perfect idea for a simple, nutritious and tasty feast 🙂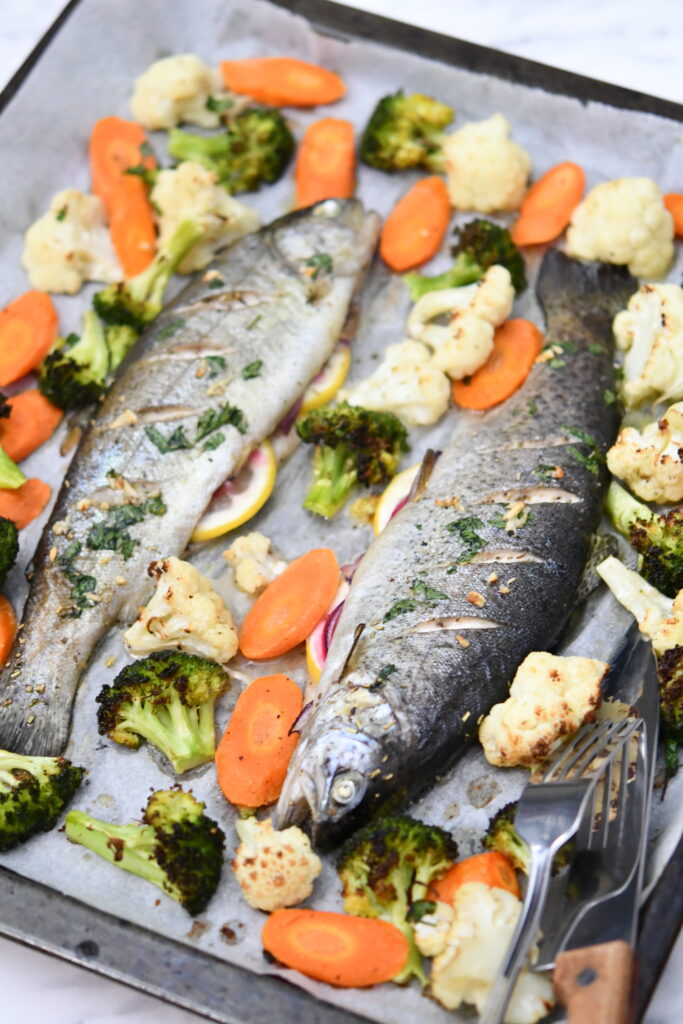 Ingredients:
2 trout, washed and cleaned
200 g broccoli, cut into florets
200 g cauliflower, cut into florets
1 big carrots, sliced
salt and pepper
1 lemon
2 garlic cloves, sliced plus 1 garlic cloves, minced
1 small red onion, sliced
½ teaspoon rosemary
3 tablespoon olive oil
3 tablespoon of butter, melted
2 tablespoon of fresh parsley, chopped
Procedure:
Place the vegetables into a big bowl. Season with salt, pepper and a few drops of olive oil. Mix and set aside. Preheat the oven to 250°C. Rinse and dry the trout and make a few cuts with a knife on one side, squeeze the lemon into the trout and rub with a pinch of salt and pepper. Sprinkle each trout with a rosemary and rub with 1 tablespoon of olive oil. Divide the garlic, onions into each trout and insert into each stomach together with 2 slices of lemon. Place on a large baking tray lined with baking paper with the cut side up. Put the vegetables on the baking tray next to the fish. Combine the melted butter, add 2 tablespoons chopped parsley, minced garlic, salt and pepper. Pour the mixture over the trout and vegetables. Bake for 15-20 minutes. Serve with boiled rice, potatoes or fries 🙂
Enjoy!