Ribs in gravy with vegetables is a recipe for a simple and great lunch. The preparation time is long, but it is really worth waiting every minute, because the taste of this dish rewards everything. The meat is juicy, it comes off the bone, the vegetables are soft and extremely aromatic, and the sauce perfectly complements this dish. Try it and this recipe will surely be one of your favorites 🙂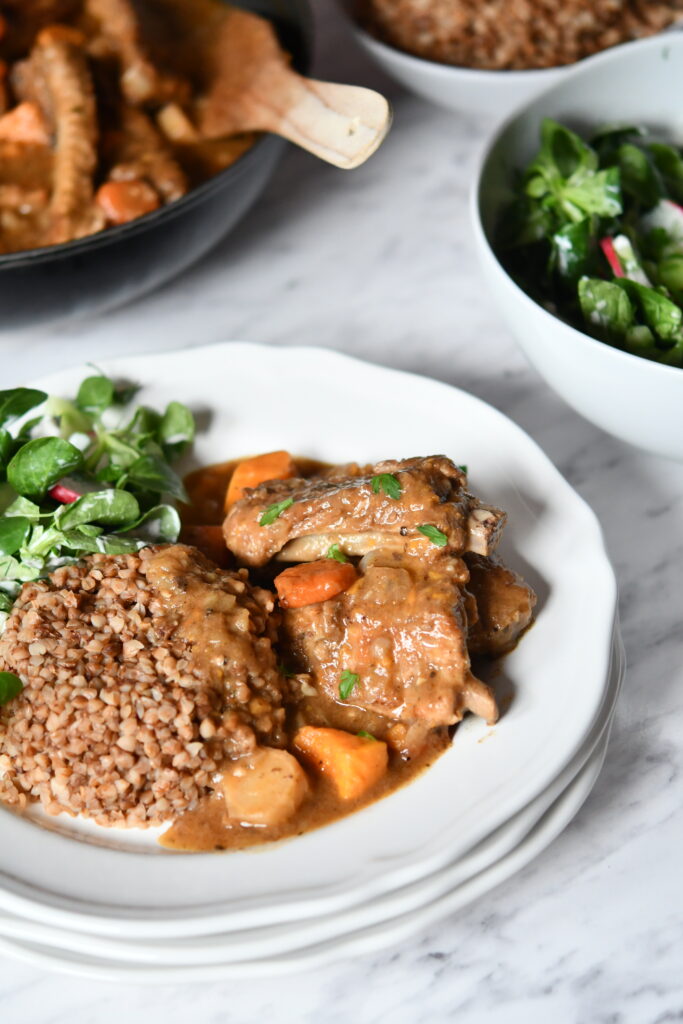 Ingredients:
1 ½ kg of spare ribs, washed, dried and cut into individual ribs
1 onion, diced
2 garlic cloves, diced
1 piece of celery, approximately 6 centimeters in size, peeled and diced
2 carrots, cut into large slices
1 parsley, cut into slices
1 sweet potato, cubed
2 tablespoons of soy sauce
¾ liter of hot water
1 tablespoon of sweet pepper
⅓ teaspoon of hot pepper
1 teaspoon wild garlic
¼ cup flour + 1 tablespoon flour to thicken the sauce
1 teaspoon of pepper
½ teaspoon of salt
frying oil
Preparation:
In a bowl, combine ¼ cup flour, sweet and hot peppers, salt, pepper and wild garlic. Thoroughly coat all the ribs in the flour mixture. Heat the oil in a frying pan over high heat and fry the ribs in batches on each side until golden brown. After frying, transfer the ribs to a plate. In the same pan, add oil again and fry the onion and garlic for 3 minutes. Add carrots, parsley and celery, season with salt and pepper to taste and fry together for 4 minutes. Add the ribs, mix, add the soy sauce and pour water over it. Simmer, covered, for 1½ hours, stirring occasionally. After this time, pour out a cup of the stock. Add chopped sweet potatoes to the pot and cook for another half hour. When the stock in the glass has cooled down (you can add a little cold water), add a tablespoon of flour and mix thoroughly. Add this mixture to the ribs and mix thoroughly to thicken the sauce. Cook for about 2 minutes. Season to taste. Serve with groats or potatoes and your favorite salad 🙂
Enjoy!