One of my favorite soup. A traditional soup which you can see in the table especially during Easter. Also good for cold and rainy days. It's a sour soup with egg, sausages and bacon.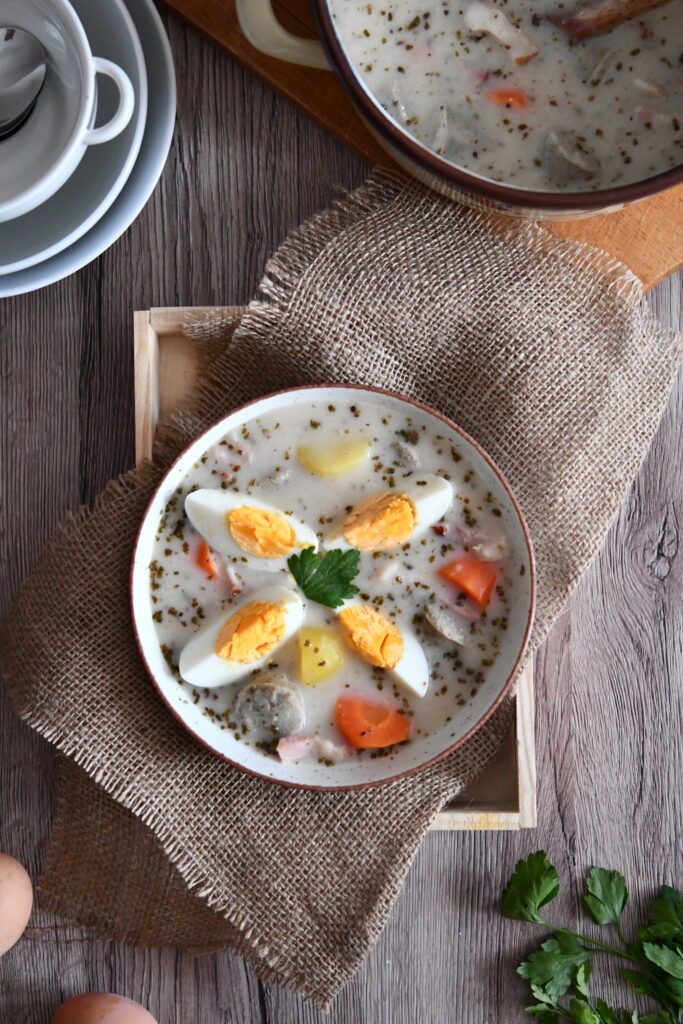 Ingredients:
3 white sausages
200 g smoked bacon
2 medium carrots
small parsley (white)
3 medium potatoes
50 g celery ball
1 medium white onion
250 ml sourdough for sour soup (recipie)
1 liter water
2 laurel leaves
5 pepper balls
3 allspice balls
½ tsp salt
1 ½ tbsp dried marjoram
50 ml sweet cream 30%
4 hard-boiled eggs (quarter cut)
Procedure:
Peel and cut carrots, celery and parsley into a large pieces. Peel onion. Peel potatoes and cut into medium cubes. Place all the vegetables into a big pot and add bacon. Slightly prick sausages and add to the pot. Pour all the water, add pepper balls, allspice balls, laurel leaves and salt. Cook on a medium heat with cover for 30-40 minutes. Take the vegetables and meat out of the pot and set aside. Leave the stock in the pot, add sourdough and marjoram, boil for 7 minutes mixing from time to time. At this time, cut the sausages into slices and bacon into cubes. Chop the carrots into small cubes. After 7 minutes, add the cream to the stock and mix then add back to the pot cutted meat, carrots and potatoes. Season with salt and pepper if needed. The soup is ready, serve it with eggs.
Enjoy!