These chocolate brownies are a hit no matter what occasion I bake them. It is also worth experimenting by simply adding different types of fruits or some different flavors desired. This time, these brownies are made with lots of dark chocolates, topped with white chocolate ganache with a twist of raspberries glaze which results as a beautiful heart decoration! A delicious dessert recipe that melts in the mouth that will make you want to eat more and more! 🙂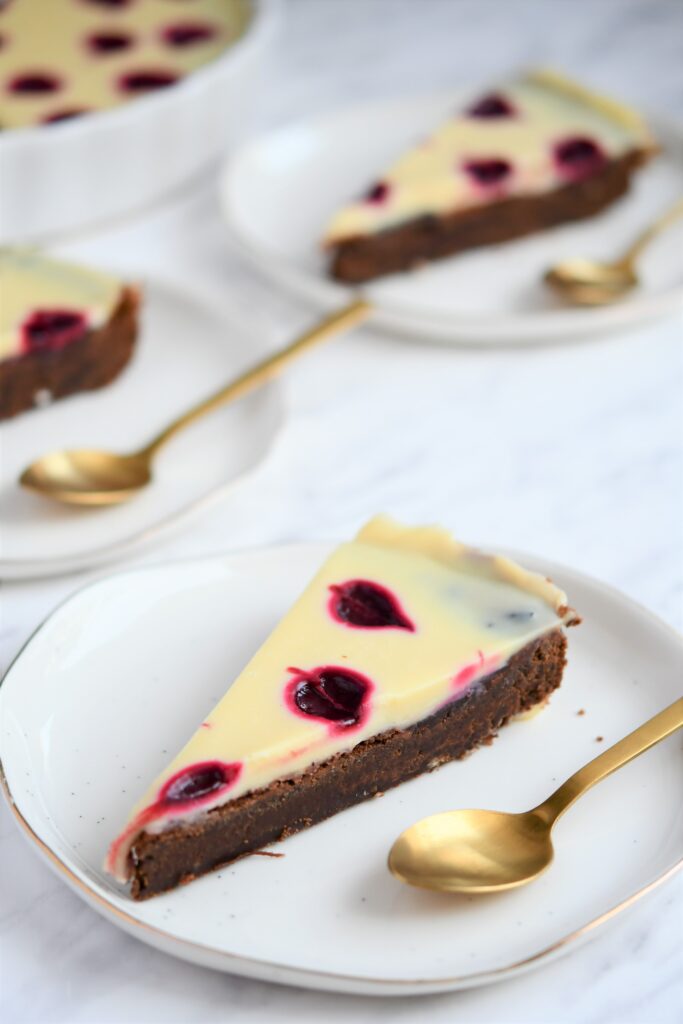 Ingredients:
Brownie:
200 g of dark chocolate broken into smaller pieces
200 g of butter
3 eggs at room temperature
200 g of sugar
1 teaspoon of vanilla extract
140 g of wheat flour sifted
50 g of crushed chocolate to sprinkle on top
Ganache:
150 ml cream 30%
200 g of white chocolate
Raspberry glaze:
200 g of frozen raspberries
Procedure:
Brownie:
In a saucepan over medium heat, melt the butter. Remove from heat and add dark chocolate, stir until dissolved. Set aside to cool. Put sugar and eggs in a large bowl. Blend to a homogeneous, fluffy mass. Add flour, vanilla extract and cooled chocolate to the eggs. Gently mix everything with a spatula until it is homogeneous. Transfer the mass to a round dish and even out the top. Sprinkle the top with crushed chocolate and put in an oven preheated to 160°C (top and bottom) for about 30 minutes (it can be up to 45 minutes, depending on the thickness of the dough) into a dry stick. Remove from the oven and set aside to cool.
White Chocolate Ganache:
In a saucepan, heat the cream. Remove from heat and add white chocolate, mix everything thoroughly and set aside to cool. When the ganache has cooled down, pour it over the brownie in the baking tin to cover the cake.
Raspberry Glaze:
Put frozen raspberries in a saucepan and heat slowly. You can add a little water if you are concerned about burns. Cook until syrup is obtained, then pour everything through a strainer to get rid of seeds. Let it cool down. Using a kitchen sleeve or even a syringe, make round blobs on the white chocolate ganache. Then use the toothpick to run over the raspberry circle until you get the heart shape. Put the brownie in the fridge for a few hours and serve 🙂

Enjoy!