Braised ribs are a great way for a simple and very tasty lunch. The goulash sauce goes well with potatoes, bread and of course rice. The meat is soft, goes off the bone nicely, juicy and of course very tasty. With the addition of pickled cucumbers, we had a very nice classic lunch 🙂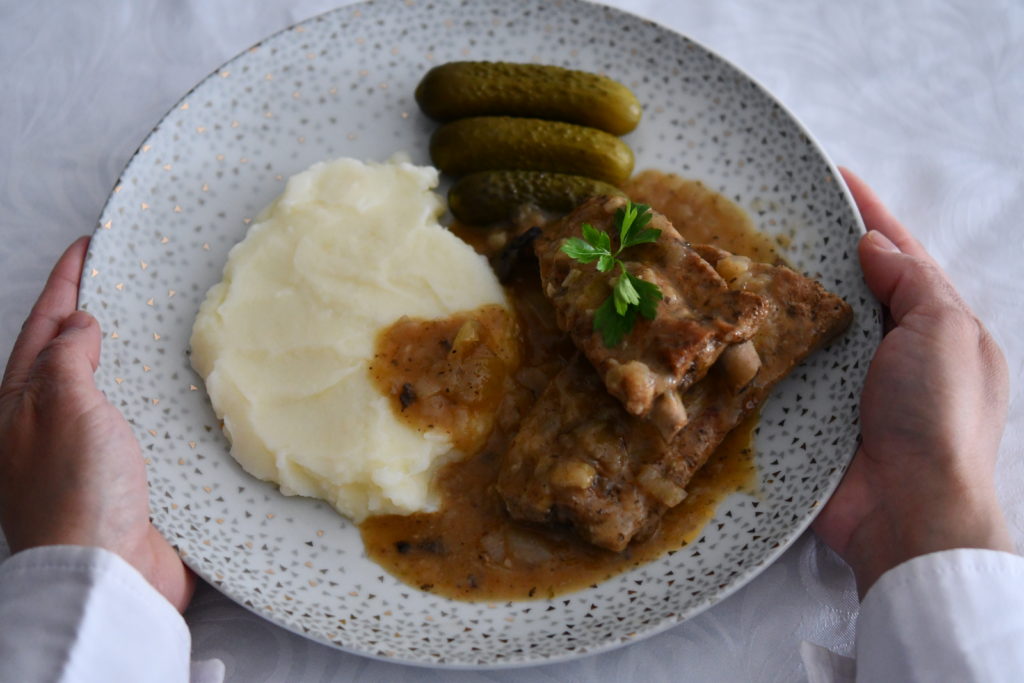 Ingredients:
700g pork ribs, cut into 4-5 cm pieces (2 bones)
2 large onions cut into thick crescents
3 garlic cloves, chopped
½ tsp salt
1 tsp ground pepper
1 ½ tsp sweet chili pepper
1 tsp marjoram
1 bay leaf
3 allspice balls
3 peppercorns balls
1 tbsp flour
1 tbsp butter
Preparation:
Rub the meat thoroughly with salt, ground pepper, sweet chili pepper, marjoram and 1 clove of very finely chopped garlic. Put marinated meat in the fridge overnight. Heat the oil in a pan. Fry the ribs in batches on each side until it turns to lightly brown color and place in a pot. Put the onion in the same pan and lightly fry. At the end of frying, add the remaining garlic. Pour a glass of hot water and boil for a moment to take away all the flavors. Pour the contents of the pan into the pot with the ribs, add bay leaves, allspice and peppercorns. Simmer the ribs over low heat, stirring occasionally, for about 1 1/2 hours or until the meat is tender. When the meat is soft, thicken the sauce. Remove the ribs and set aside on a plate. In the pan (it can be the same as before from frying), melt the butter. Add flour and fry a short while, until the flour is brown. Transfer flour and butter to the pan and mix vigorously to a homogeneous mass. Put the ribs back and cook everything together for about 5-10 minutes. Season with salt and pepper. Braised ribs taste great with pickled cucumber and mashed potatoes 🙂
Enjoy!