A delicious Conchiglie or seashell pasta stuffed with spinach, cheeses with a rich flavor of tomato sauce that make this dish taste extra special. Requires a little patience for stuffing but it is worthy because of it's awesomeness and of course the yumminess taste! A great  recipe to impress your loved ones! 🙂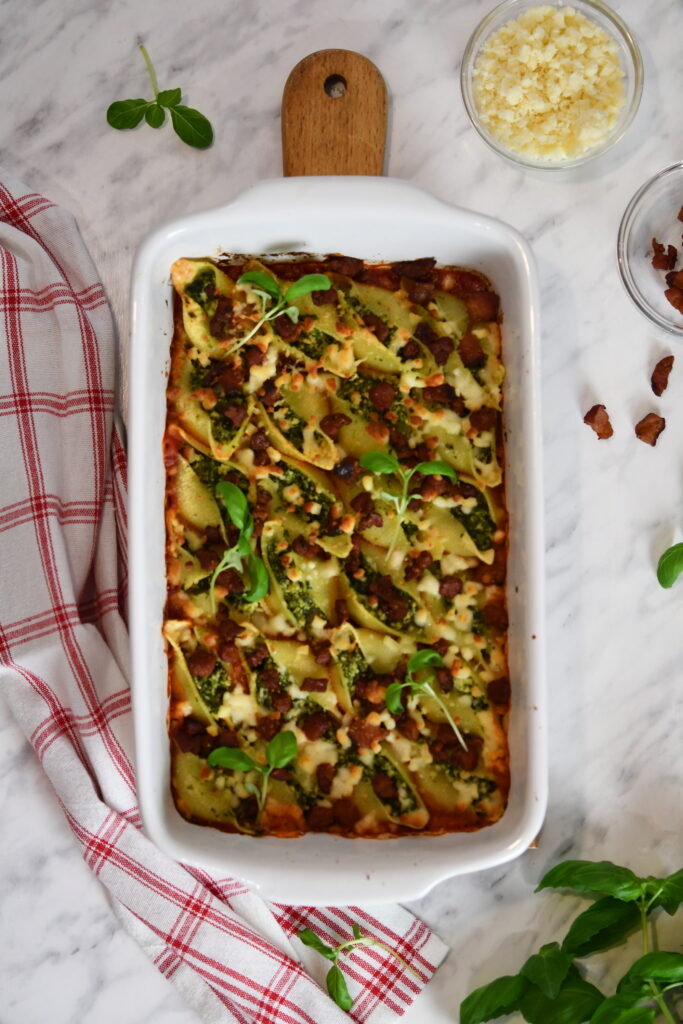 Ingredients:
250 g of shell pasta, cooked according to the instructions on the package
450 g of frozen shredded and thawed spinach
250 g of smoked bacon, diced
250 g ricotta cheese
1 medium onion, finely chopped
4 garlic cloves, finely chopped
350 ml of tomato passata
2-3 tablespoons of grated mozzarella cheese
a teaspoon of sweet pepper
½ teaspoon of oregano
½ teaspoon of basil (can be dried or freshly chopped)
½ teaspoon of sugar
salt and pepper to taste
Procedure:
In a skillet without oil, fry the bacon until crispy, it should be golden brown. Transfer the fat-free bacon to a bowl. In the bacon fat, fry 3 cloves of chopped garlic and the onion. When the onion is lightly browned, add the spinach and fry together for about 5 minutes. After this time, add the ricotta and a pinch of salt. Mix everything thoroughly, season with pepper and fry together for a while, until the water evaporates and the ingredients combine nicely. Set aside to cool down to conveniently stuff the shells. In another pan, add the passata, add sweet pepper, basil, oregano, sugar, remaining garlic, pepper and salt, mix everything thoroughly and stew for about 5 minutes. Pour the tomato sauce into an ovenproof dish. Stuff the shells with one tablespoon of spinach stuffing and put them in an ovenproof dish with tomato sauce. Sprinkle it with fried bacon and mozzarella cheese. Put in the oven preheated to 180°C for 15 minutes. After taking it out of the oven, garnish the casserole with basil leaves 🙂
Enjoy!