An extremely simple and very tasty version of tiramisu. However, it is not a classic tiramisu, because this time I prepared a delicious version with strawberries, soft biscuits and a delicious cream. A great dessert to take advantage of the strawberry season 🙂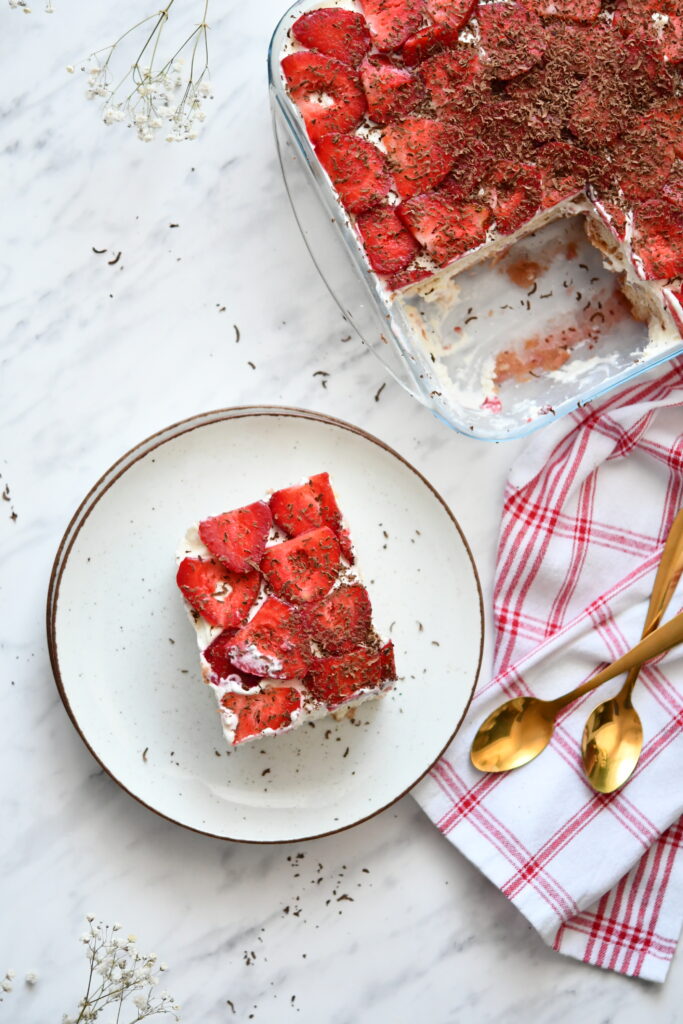 Ingredients:
500 g strawberries, sliced
180 g strawberry jam
¼ cup water
½ teaspoon lemon juice
250 g cream cheese
200 ml heavy cream
½ cup confectioners sugar
½ teaspoon vanilla extract
1 pack or 24 lady fingers biscuits
50 g semi sweet dark chocolate, grated or a cocoa powder for garnish (optional)
Procedure:
In a mixing bowl combine cream cheese, cream and sugar and vanilla extract. Beat at medium-high speed for 1-2 minutes or until smooth or thickened. In a small bowl, combine strawberry preserves, water and lemon juice. Stir to combine. Dip the lady fingers one by one quickly in the mixture to coat. Line the lady fingers in a single layer, in the bottom of a square glass dish. Spread a half of the cream cheese mixture over the ladyfingers and layer half of the sliced strawberries. Repeat with the remaining lady fingers, cream cheese mixture and sliced strawberries. Cover with cling wrap and chill for a night or at least 4 hours. Serve with grated chocolate or cocoa powder 🙂
Enjoy!