Extremely simple salad and extremely tasty. It goes well with many dishes, both for Sunday lunch, as a side dish for parties, but in my opinion it is best for grilled dishes. Simple ingredients, usually found at home, and thanks to this salad you can create a really nice addition to your dishes 🙂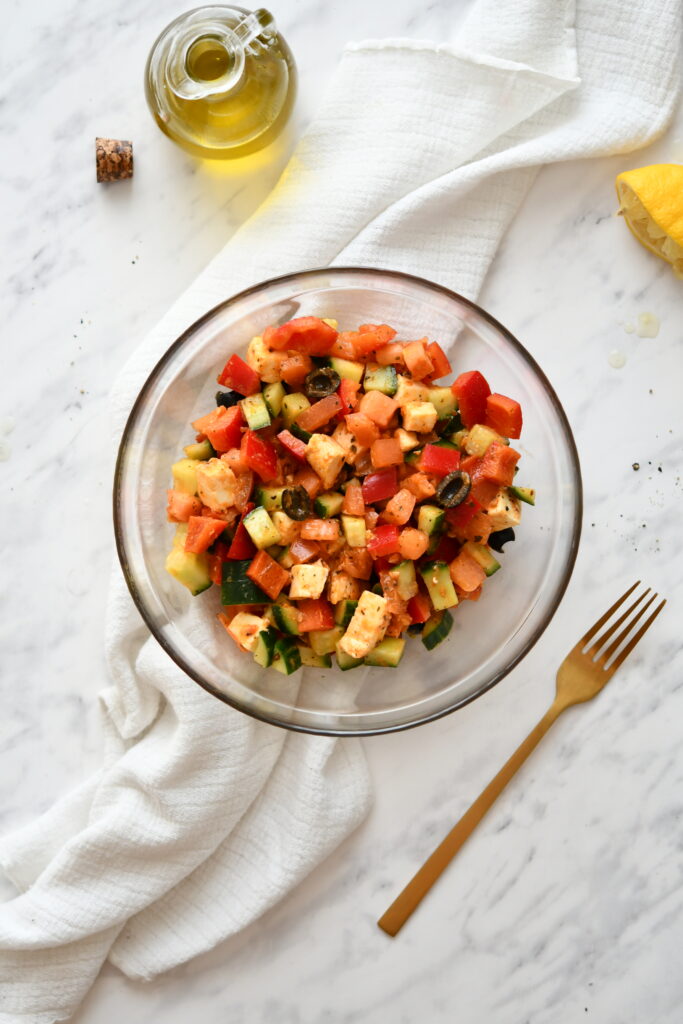 Ingredients:
Main Ingredients:
1 long green cucumber, cut into large cubes
1 raspberry tomato, cut into large cubes
1 small red pepper, diced
1 ball (125 g) of mozzarella, cubed
10 black olives, halved
Marinade (I recommend using your favorite set of spices, I used the ingredients below):
2 tablespoons of olive oil
½ teaspoon of sweet pepper
½ teaspoon of granulated garlic
¼ teaspoon dried parsley
pinch of salt
a pinch of pepper
¼ teaspoon of curry
¼ teaspoon dried basil
½ teaspoon of lemon juice
Procedure:
Combine all the ingredients for the marinade. Put all the main ingredients in the bowl. Add the marinade and mix everything thoroughly. The salad works great as an addition to lunch, as well as an addition to your grilled meat 🙂
Enjoy!