I met Snickers cake for the first time only in Poland. At first, I thought that this dessert was created on the basis of popular bars, but at most some ingredients are similar. This cake is simple to make, extremely tasty and we create a beautiful layer cake. One of my favorite cakes 🙂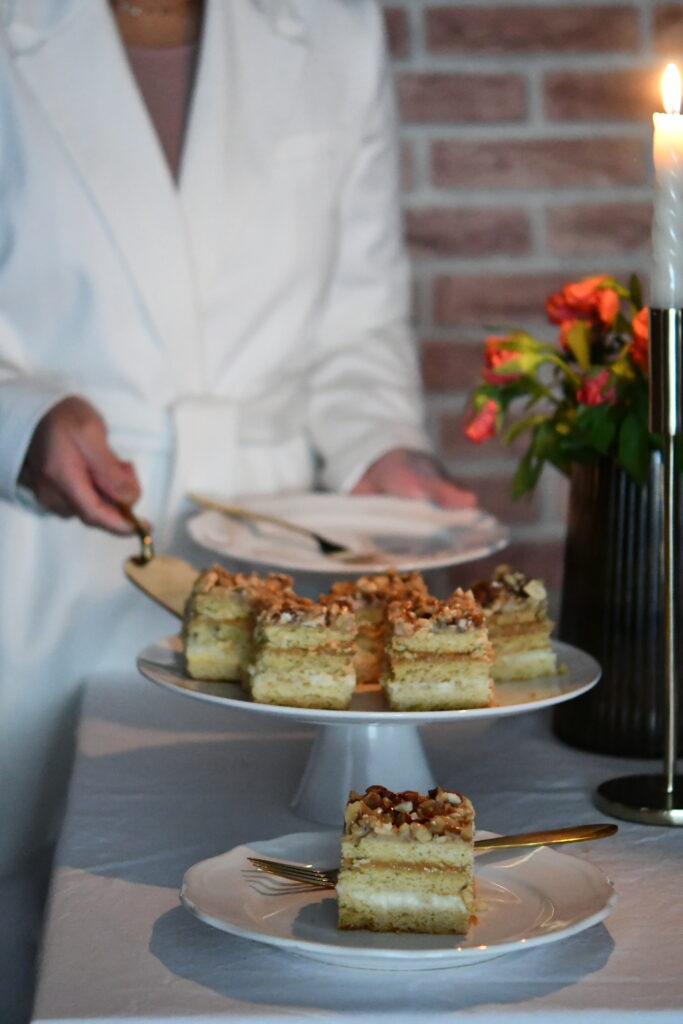 Ingredients:
Cake:
600 g of wheat flour, sifted
200 g of cold butter cut into smaller pieces
2 large eggs
2 large egg yolks
90 g of sugar
2 tablespoons of milk
4 tablespoons of honey
1 teaspoon of vanilla extract
2 flat teaspoons of baking soda
Pudding layer:
1 package of cream pudding
1 tablespoon of potato flour
500 ml of milk
Kajmak layer/Polish Milk Caramel Cream:
200 g kajmak mass
Top:
100 g of butter
4 tablespoons of honey
250 g nuts (I used almonds, peanuts and walnuts)
Procedure:
Cake:
Put all the dough ingredients in a bowl and make them homogeneous. Divide the kneaded dough into 3 equal portions (approximately 380g each), wrap each dough with a foil and refrigerate for an hour. Preheat the oven to 170°C (top – bottom). Line a 30 x 24 baking tin with a baking paper, spread the dough evenly and bake for about 12 minutes. If you have three forms, you can bake all the dough pieces together, if not, bake them individually, it is important that all layers of the dough are even. Remove the baked cake from the mold and leave to cool. Be careful when removing it as the dough can break easily.
Pudding layer:
Boil 400 ml of milk over low heat. In the remaining 100 ml of milk, thoroughly mix the pudding and flour. When the milk boils, add the pudding mixture and simmer together for a few minutes until the mixture thickens. Leave to cool.
Top:
Put the butter, honey and nuts in a saucepan, heat until the butter and honey are melted and combined with the nuts.
Assemble:
Put the first layer of dough on to the previously used baking pan. Spread the pudding mixture evenly. Gently put the second layer of cake and spread the kajmak or milk caramel cream evenly. Put the last layer of the dough on the kajmak mass and cover the whole thing with the warm, nut mixture. Refrigerate for an hour.
Enjoy!