A very simple and quick recipe for roast chicken with peppers. A small amount of widely available ingredients will allow you to prepare this delicious dish whenever you want. Great dish dinner ideas 🙂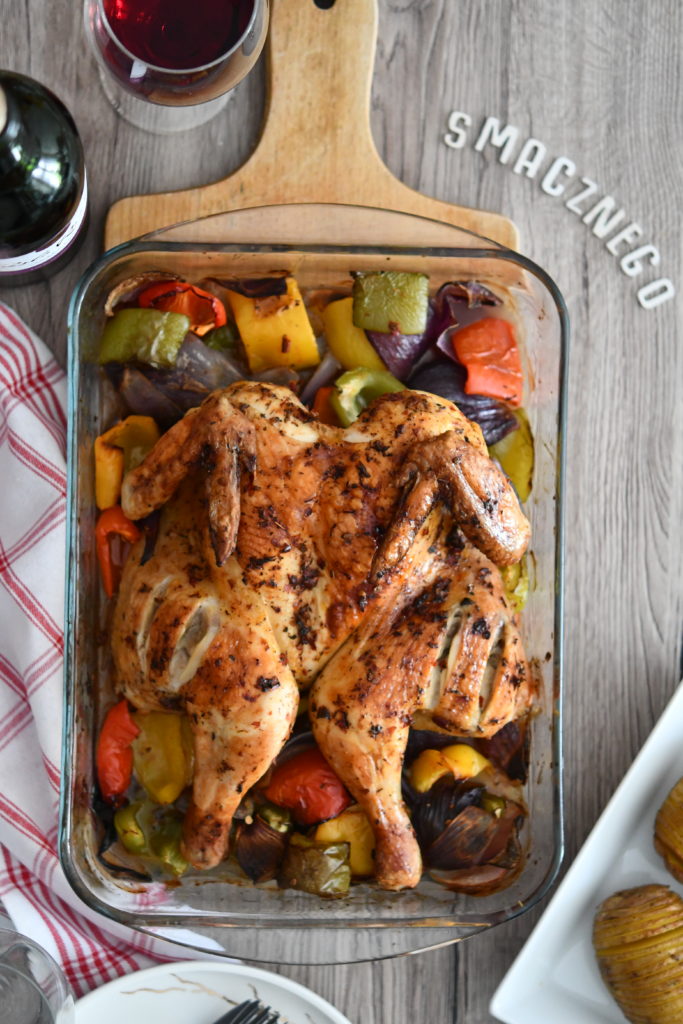 Ingredients:
Whole chicken (around 1.4 kg)
3 bell peppers (green, red and yellow)
2 red onions
3 tablespoons of chili sauce with herbs (can be harissa or other sauce / paste based on peppers)
salt and pepper
vinegar
Preparation:
Remove seeds from peppers and chop them into smaller pieces. Peel the onion, cut into 4 pieces and divide into flakes. Put the vegetables in the roasting dish. Cut the chicken from below (not from the breast) so that it can be flattened (this will increase the baking surface, thanks to which the chicken will be baked faster). Cut the legs. Put the chicken in a roasting pan, add sauce, salt, pepper and drizzle with vinegar. Rub the chicken thoroughly on each side and put it skin side up (there should be peppers and onions under the chicken). Preheat the oven to 180ºC and bake the chicken for about 50 minutes until it is baked inside and browned on the top. Serve with baked potatoes or rice 🙂
Enjoy!