Perfect for breakfast, dinner, lunch or snack for every moment. Fluffy, slightly sweet, in a nice color, and most importantly – tasty! Everyone will love these pancakes 🙂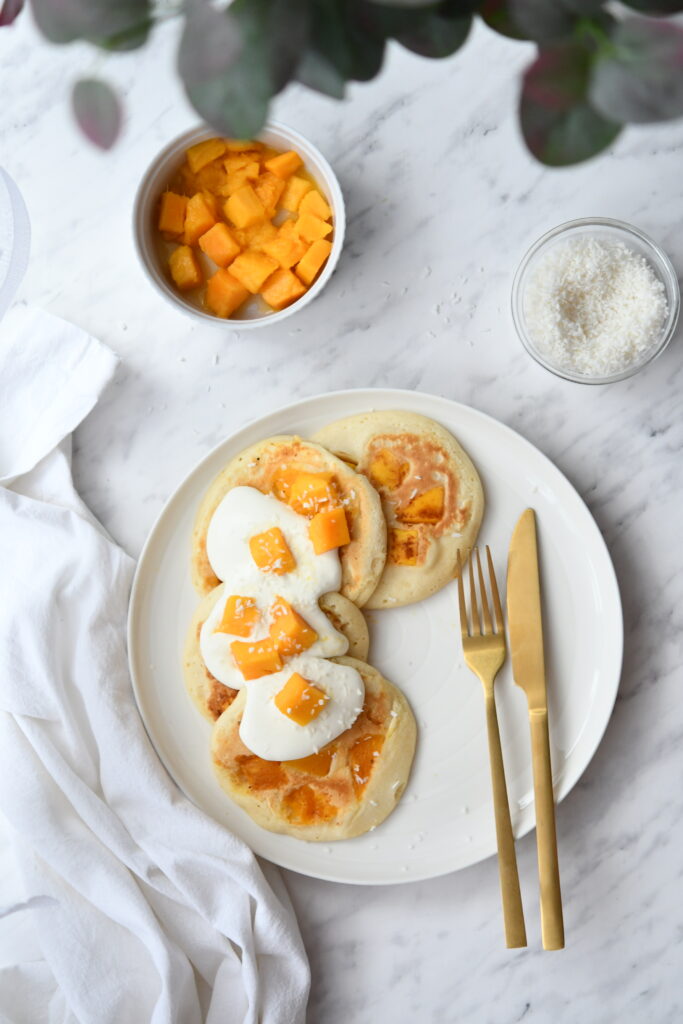 Ingredients:
¾ cup of flour (150 g)
1 glass milk (200 ml)
1 large egg
3 tablespoons oil
pinch of salt
1 teaspoon of vanilla sugar
1 big ripe mangoes chopped into cubes
whipped cream for toppings (optional)
desiccated coconut for topping (optional)
Procedure:
Separate the white egg and egg yolk into two different bowls. Start beating the egg whites and a pinch of salt until stiff. Beat the egg yolk with flour, sugar and milk and oil until well combined. Add the egg whites and gently fold it to combine. Meanwhile, lightly brush the pan with oil and heat up over a medium heat. Add about ¼ cup batter to the surface. Scatter a few chopped mangoes on top of uncooked pancakes. Cook for about 3-4 minutes or until bubbles form and pop on the surface of the batter. Flip the pancake on the other side. Repeat with the remaining pancakes until finished. Place the cooked pancakes into a plate and cover with aluminum foil to keep it warm until you finish cooking. Serve with whipped cream, some chopped mangoes and sprinkle with desiccated coconut. 🙂
Enjoy!