Egg Pie is a sweet Filipino pie with an egg custard filling and a characteristic toasty brown top made from egg whites. It is made from flour, sugar, milk, butter and eggs. It is mostly served during merienda or an afternoon snack. Egg pies are commonly sold in the bakeries but why not try it at home? With this easy recipe you'll have a hearty, delicious and creamy snack for the whole family 🙂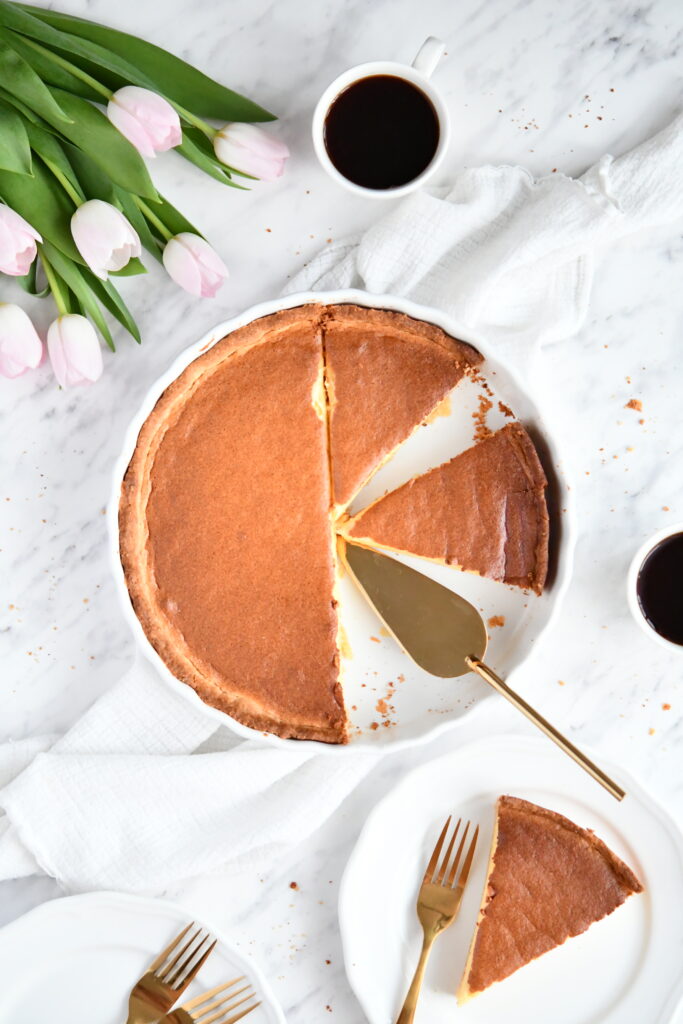 Ingredients:
Pie Crust:
150g flour
50 g powdered sugar
pinch of salt
100g cold butter, cubed
2-4 tablespoons of ice water
Custard Filling:
3 large eggs
1 large egg, white and yolk separated
1 can condensed milk
1 cup evaporated milk
100g heavy cream
2 teaspoons vanilla extract
Procedure:
Pie Crust:
Sift the flour and powdered sugar and place on a flat surface. Add the salt and butter. Chop the butter using a knife. Add a spoon of water one at a time while chopping to combine them together until the dough is crumbly. Press the dough together to form a ball. Wrap the dough ball with a cling wrap and refrigerate for 40-50 minutes. Place the dough ball into the floured surface and roll into a round flat sheet. Place the dough on a 26cm pie form. Trim the excess dough. Prick the dough with a fork and refrigerate again for another 20 minutes.
Filling:
Preheat the oven for 170°C. In a large bowl, whisk the 3 eggs and the separated egg yolk. Slowly add the condensed milk while whisking. Add the vanilla extract and continue whisking until well combined. Add the evaporated milk and cream and mix them together until well blended. In another bowl, beat the egg whites until it forms soft peaks. Fold the beaten egg whites into the mixture. By this it will give the egg pie brown color after baking. Pour the filling on the refrigerated pie crust and bake for 15 minutes. Lower the heat temperature to 150°C and continue baking for 30-35 minutes or until the toothpick inserted comes out dry and clean. Remove from the oven and cool for 10-15 minutes. Serve with coffee or tea 🙂
Enjoy!