The Christmas wreath looks complicated, but the recipe is actually very simple. The only challenge may be wrapping the wreath, but you really need to put the two ends of the dough between each other. The effect on the Christmas table is brilliant, and the taste is unearthly 🙂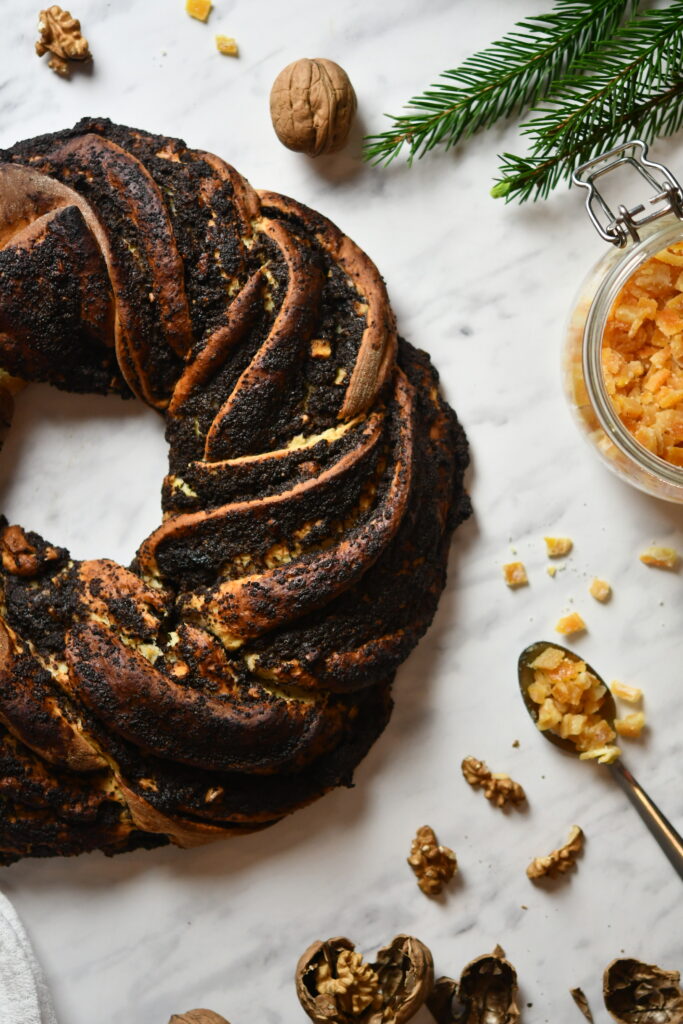 Ingredients:
Dough:
1 cup milk
7g instant yeast
1/4 cup of sugar
50 g flour
pinch of salt
75g of butter
1 large egg
Filling:
45 g ready-made poppy seed mass
10 g walnuts, chopped
1 tablespoon of candied orange peel (recipe)
1 large egg
Toppings:
1 cup powdered sugar
1 tablespoon of lemon juice
2-3 tablespoons of hot water
candied orange peel (recipe)
Procedure:
Dough:
Sift flour into a large bowl, add yeast, sugar, salt, and mix. In a small saucepan, heat the milk and butter until completely melted, let it cool. Once cool, add to the rest of the ingredients in a bowl, break in the egg and make a smooth and elastic dough. Sprinkle lightly with flour if necessary. Cover with cloth and leave for about 45-50 minutes to rise.
Filling:
Add the egg, orange peel, chopped walnuts to the poppy seed mass. Mix thoroughly.
Topping:
Sift powdered sugar into a bowl, add lemon juice and enough water to make a thick icing. Set aside.
Assemble:
Knead the dough slightly, roll out into a rectangle of 30×50 cm. Put an even layer of poppy seeds and roll it up. Cut the roulade in half lengthwise, but not completely, leaving a few cm on one side. Braid both ends .Then weave the ends together and roll into a wreath. Place on a tray lined with baking paper. Bake for about 30 minutes at 170ºC degrees until golden brown. Allow it to cool. Once cool, Pour the icing over the roulade and sprinkle with candied oranges 🙂
Enjoy!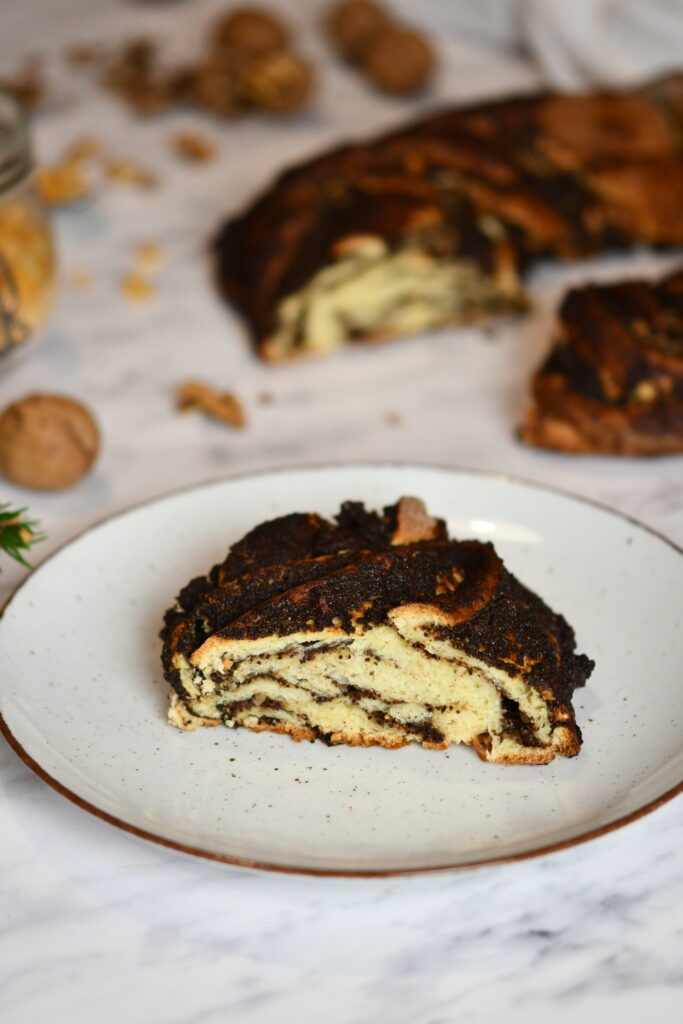 butter
,
egg
,
flour
,
lemon juice
,
lemon
,
milk
,
nut
,
orange
,
poppy seed
,
powdered sugar
,
salt
,
sugar
,
walnut
,
water
,
yeast