A great and aromatic addition to a variety of cakes and desserts. The smell of oranges is associated with Christmas, so this natural aroma with an intense flavor and aroma should be found in every kitchen where Christmas dishes are prepared. This crust is also perfect for other sweet pastries 🙂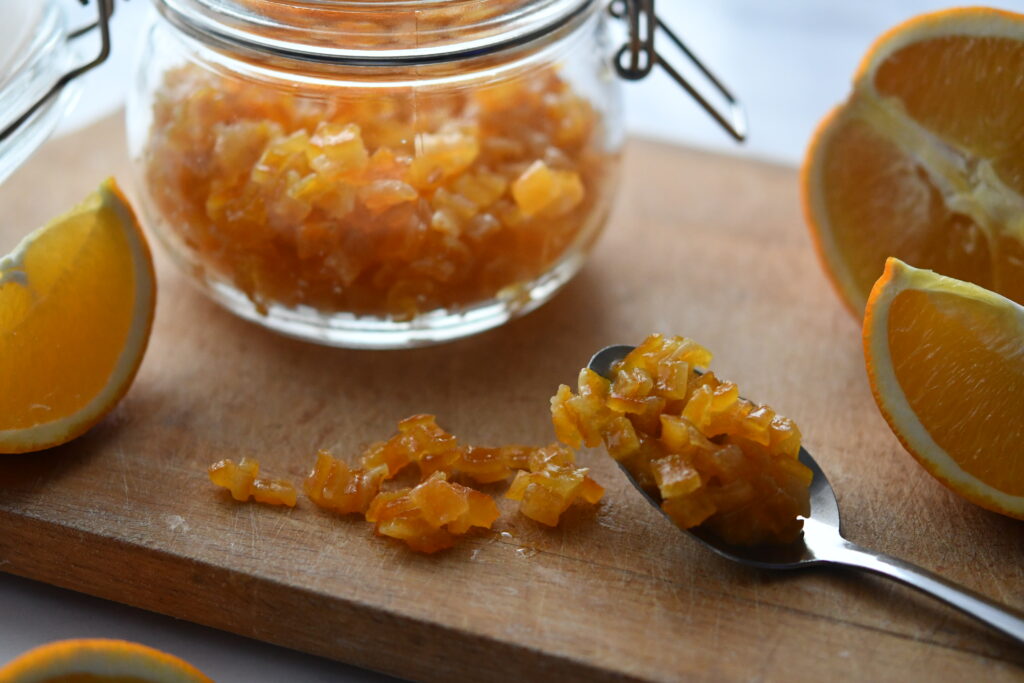 Ingredients:
3 oranges
130 g sugar
100 g water
1 tablespoon of lemon juice
Procedure:
Wash the oranges very well and cut off both ends. Slice oranges into a half and cut each half into three wedges to easy peel the fruit afterwards. Carefully peel the oranges with a knife and place the skin into a bowl. Pour in cold water over. Soak the skin for two days, changing the water 2-3 times each day to easily remove bitterness. After soaking, put the skin into a saucepan and pour water. Bring to a boil and cook for 10 minutes. Drain and allow to cool. Once cool, carefully remove the albedo (white part of the orange) using a flat sharp knife.
Cut the skin into cubes (you can also cut into strips) and set aside. By this time, pour in sugar and water into a saucepan over a medium heat. Stir until sugar has dissolved and syrup has formed. Put the orange peel into the syrup and simmer for 10 minutes. Mix all the time to make sure orange skin was soaked thoroughly to the syrup. Allow to cool until the next day. Reheat the crust over medium heat, pour in lemon juice and cook for 1-2 minutes. Candied orange peel is ready or you can store into a jar and refrigerate for 1-2 months 🙂
Enjoy!