A great idea for a delicious Sunday lunch. Contrary to appearances, it's not a lot work with the tenderloin. The meat and vegetables creates a great composition of flavors. I would like to invite you to try this delicious and creamy dish 🙂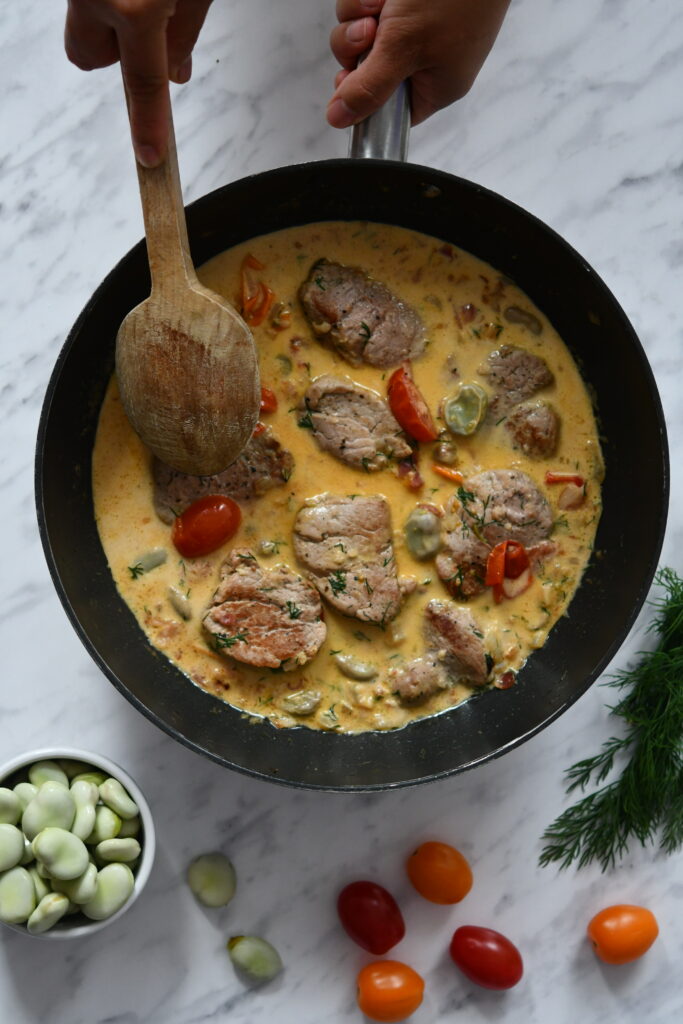 Ingredients:
500 g pork tenderloin
125 g of cooked broad beans
2 slices of smoked bacon, diced
10 cherry tomatoes, halved
2 cloves of garlic squeezed through the press
1 onion, diced
1 tablespoon of olive oil
spoon of butter
half a cup of broth
100 ml cream 30%
a handful of chopped dill
Preparation:
Remove the white film from the sirloin, wash, dry and cut into 2-3 cm slices. Put into a bowl, pour olive oil, sprinkle with pepper, salt and garlic. Using your hands, rub the spices thoroughly over the meat. Put in the fridge for 2-3 hours. Boil the broad beans in salted water for 15 minutes. You can peel it, but I more like broad beans with the skin. Half an hour before frying, remove the meat from the refrigerator to bring it to room temperature. In a frying pan over medium heat, melt the butter. Add the onion and fry until it is glass-colored. Increase the heat and put the tenderloin on the cutting side of the pan. Fry on each side for a minute. After this time, add the bacon and fry for 2-3 minutes, stirring frequently. Add the stock and bring to a boil. Cook for 1-2 minutes and add broad beans with tomatoes. Mix thoroughly. Add cream, stir and bring to a boil. Add salt and pepper to taste and cook for about 3-4 minutes (if you prefer the tomatoes to be harder, cook for 1 minute). Add the dill, mix and set aside from heat. Serve with boiled potatoes or rice 🙂
Enjoy!