A delicious cake with a great sponge cake, filled with cream, jelly, raspberries and truffle chocolate. The ingredients perfectly complement each other, compose, and look great, and the recipe itself does not require great confectionery skills. An elegant cake suitable for baptism, communion or birthday.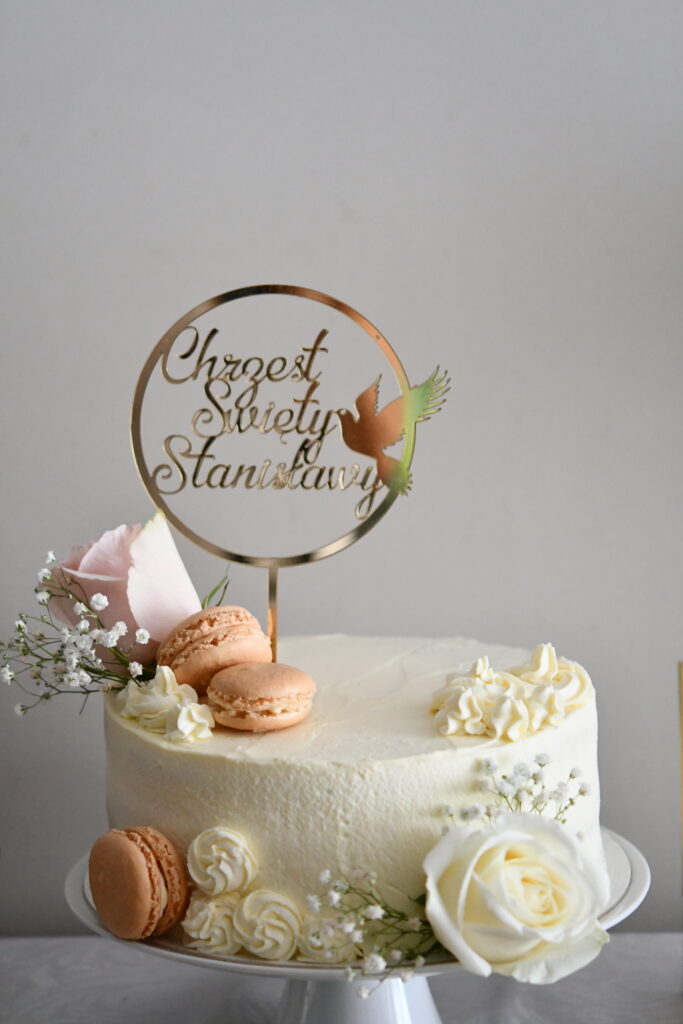 Sponge cake (26-27 cm springform cake tin):
Ingredients:
7 large eggs
1 cup of plain wheat flour
½ cup of potato flour
1 cup of sugar
1 full tablespoon of vanilla sugar
1 teaspoon baking powder
2 tablespoon of water
Procedure:
Separate the yolks from the egg whites. Place the egg whites in a bowl and mix until they form a light foam. While mixing at the highest speed of the mixer, start adding a spoonful of sugar (each next spoon should be added only when the previously added portion is completely dissolved). Add the yolks one by one into the beaten foam, and finally pour in the water. Sift in both flours and baking powder through a sieve and add a spoonful into the egg mass. Line the bottom of a springform pan with a diameter of 26-27 cm with baking paper and divide the dough into it. Place into the oven preheated to 170ºC and bake for about 30 minutes or until the toothpick inserted is dry. Allow to cool.
Frosting:
Ingredients:
1.5 l of cream 36%
250 g of mascarpone cheese
3 fix creams
16 g of vanilla sugar
powdered sugar to taste
1 pack of raspberry jelly
250 g fresh raspberries (you can also use frozen)
60 g truffle chocolates, chopped
Procedure:
Make the raspberry jelly according to the package instructions. Allow to cool. Once cool, transfer into a round jelly molder and refrigerate for 3-4 hours or until jelly is set. Once the jelly is set, start making the cream. Pour the heavily chilled cream into a metal bowl, add the mascarpone and mix. Add sugar and fix creams while whipping. Whip until stiff whipped cream is obtained. Divide the cream into four parts. Refrigerate for an hour to thicken. By this time, cut cakes into three parts. Place the first layer of cake into the cake board. Spread one part of the cream. Place the jelly in the middle over the cream. Spread another part of cream on top of jelly. Put the second layer of the cake. Sprinkle the chopped truffles chocolates into one part of the cream. Spread into the cake and dot with some fresh raspberries. Place the last layer of cake and spread the left cream on top and sides of the cake. Decorate the cake with some french macarons, fresh roses and cream 🙂
Enjoy!