One of the simpler biscuits, but extremely tasty. A favorite delicacy of children, but also adults love these cookies. For younger helpers, preparing these cookies is fun, because you can cut any shapes, it all depends on your imagination and molds 🙂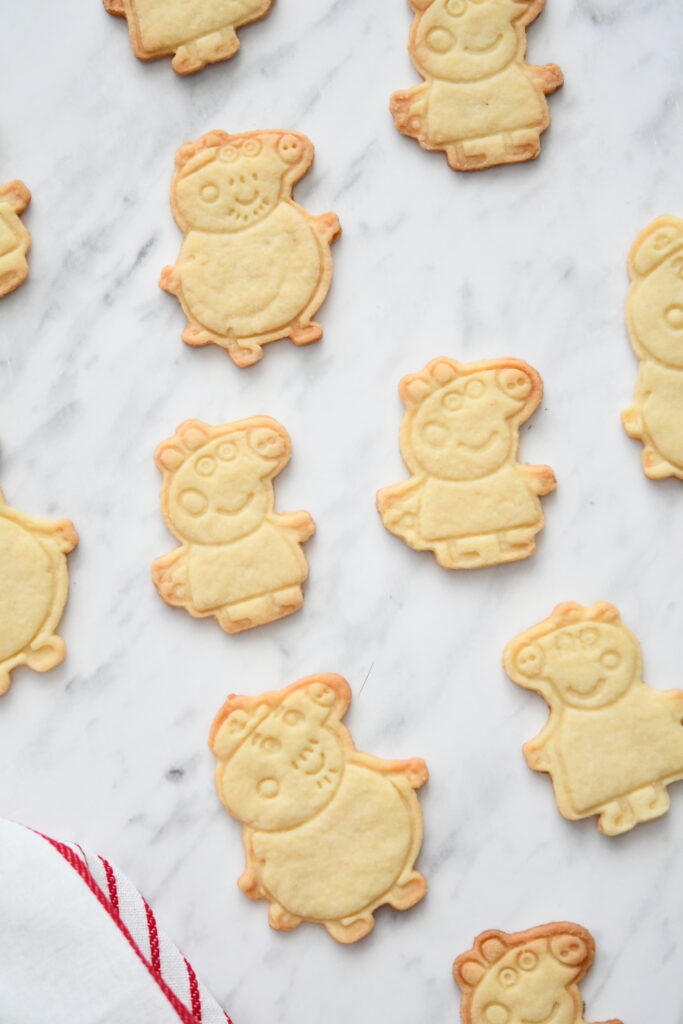 Ingredients:
300 g of wheat flour sifted through a strainer
1 cold egg
150 g of cold butter, cut into small cubes
70 g of powdered sugar
1 flat teaspoon of baking powder
pinch of salt
Procedure:
Put all the ingredients in a bowl and knead by hand until smooth. You can also use a food processor. Shape the dough into a ball, wrap in cling film and refrigerate for at least an hour. Sprinkle the dough board with flour. Knead the cold dough a little and roll it out to a thickness of about half a centimeter on a previously prepared pastry board. Cut any shapes out of the dough, for me the molds were in the shape from the cast of Peppa Pig. Line the cut shapes at small intervals on a baking tray lined with baking paper. Preheat the oven to 180°C (top and bottom heater) and bake the biscuits for 10-12 minutes, until they are lightly golden. Repeat the process for the remaining dough (three biscuit trays come out). After baking, allow the cookies to cool down. They taste great both warm and for a few days, so that they stay fresh even for a few weeks, keep them in an airtight container 🙂
Enjoy!