Potato dough is very popular in Poland. Earlier, I introduced kopytka and now it's time to prepare delicious dumplings from potato dough with meat. A quick, delicious and a filling dish with a great and rich taste of sweet, sour and spicy mushroom sauce 🙂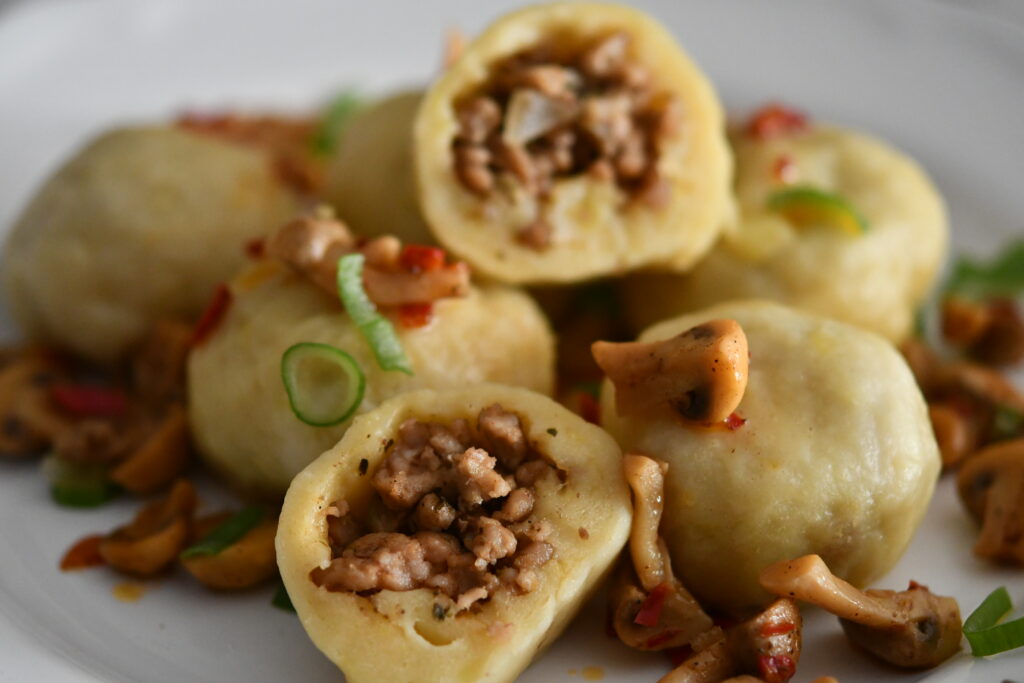 Ingredients:
500 g of ground pork
600 g of boiled and mashed potatoes
300 g of flour
1 egg
1 small onion, diced
2 garlic cloves, chopped
1 chili pepper, chopped
250 g small mushrooms, halved
half a lemon juice
2 tablespoons of butter
1 teaspoon of marjoram
salt and pepper to taste
a handful of chopped chives
pinch of sugar
oil for frying
Procedure:
In a frying pan, heat the oil over medium heat. Add the onion and garlic and fry together until the onion is glass-colored. Add the meat and fry until the meat turns color. Season generously with salt, pepper and marjoram. Fry until the water evaporates and leave to cool. Put flour, cooled potatoes, egg and a pinch of salt on the pastry board. Mix everything and knead the dough. When the dough is ready, roll it out to a thickness of about 5 mm and use a glass or a round dish to cut circles. Put some stuffing on the circles, fold the sides up and stick them together, then form a ball. Boil water with half a teaspoon of salt and a teaspoon of oil. When the water boils, add the dumplings. Cook 5 minutes after it floats. During this time, heat the butter in the pan. When the butter is melted, add the chili pepper and fry together for a while. Add the mushrooms and salt them. Fry for 2 minutes and add lemon juice and a little sugar. Stir and fry for another 2 minutes. Add the chives and stir. Pour the spicy mushroom sauce over the dumplings 🙂
Enjoy!