This easy cake pops recipe is covered by white chocolate coating and colorful sprinkles that make it look beautiful. A bite-sized dessert perfect for every occasion 🙂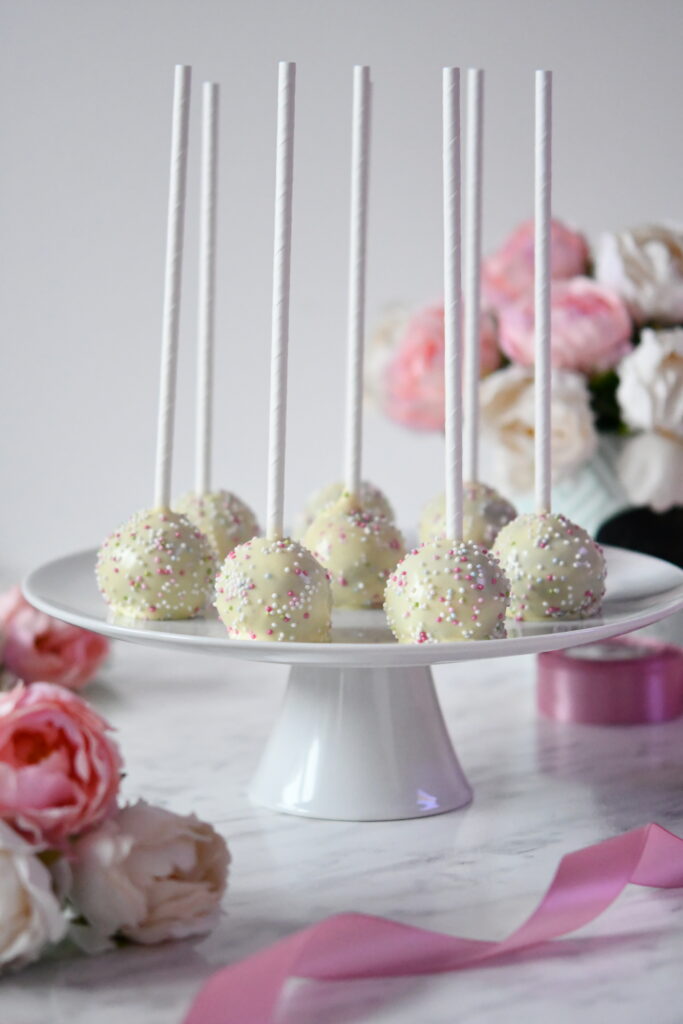 Ingredients:
Chocolate Cake:
4 large eggs, at room temperature
170 g of sugar
1 tablespoon of vanilla sugar
90 g of potato flour
160 g of fine wheat flour
1 teaspoon of baking powder
200 g of melted warm butter
1 ½ tablespoons cocoa
1 teaspoon of butter to brush on the baking tin
250 g mascarpone cheese
White Chocolate Coating:
200 g chopped white chocolates
sprinkles
lollipop sticks or paper straws
Procedure:
Grease a small pan about 22 cm in diameter with butter and set aside. Crack the eggs into a larger bowl, add sugar and vanilla sugar. Beat for about 8 minutes until the mixture is fluffy, light and thick. Add the sifted wheat flour, potato flour, baking powder and cocoa powder and gently mix with a spatula until smooth. Add melted warm butter and mix again. Pour into the prepared baking pan. Bake at 170°C for about 40 minutes until the stick is dry. After baking, take the cake out of the mold and let it cool into a wire rack. When the cake is completely cooled, crumble the cooled cake into the bowl. Make sure there are no large lumps. Process the crumbled cake with mascarpone cheese into a food processor until combined. Measure 1 tablespoon of moist cake mixture and roll into a ball. Place balls on a lined baking sheet. Refrigerate for 2 hours or freeze for 1 hour. Melt the chocolate, you can use a microwave or a double boiler. Take the cake balls from the fridge. Dip a lollipop stick about 1/2 inch into the coating, then insert into the center of the cake ball. Dip the cake ball into the coating until it is completely covered. Make sure the coating covers the base of the cake ball where it meets the lollipop stick. Very gently tap the stick against the edge of the measuring cup to allow excess coating to drop off. Decorate the top with sprinkles and place upright into a styrofoam block or a tall glass. Repeat with remaining cake balls. Coating will set within an hour or refrigerate for a fast result. Store cake pops in the refrigerator for up to 1 week 🙂
Enjoy!