Roulade is a classic cake during various Polish celebrations. I'm not surprised, because sponge cake with delicious cream is a really great mix. A simple recipe for an extremely tasty dessert suitable for holidays and other events 🙂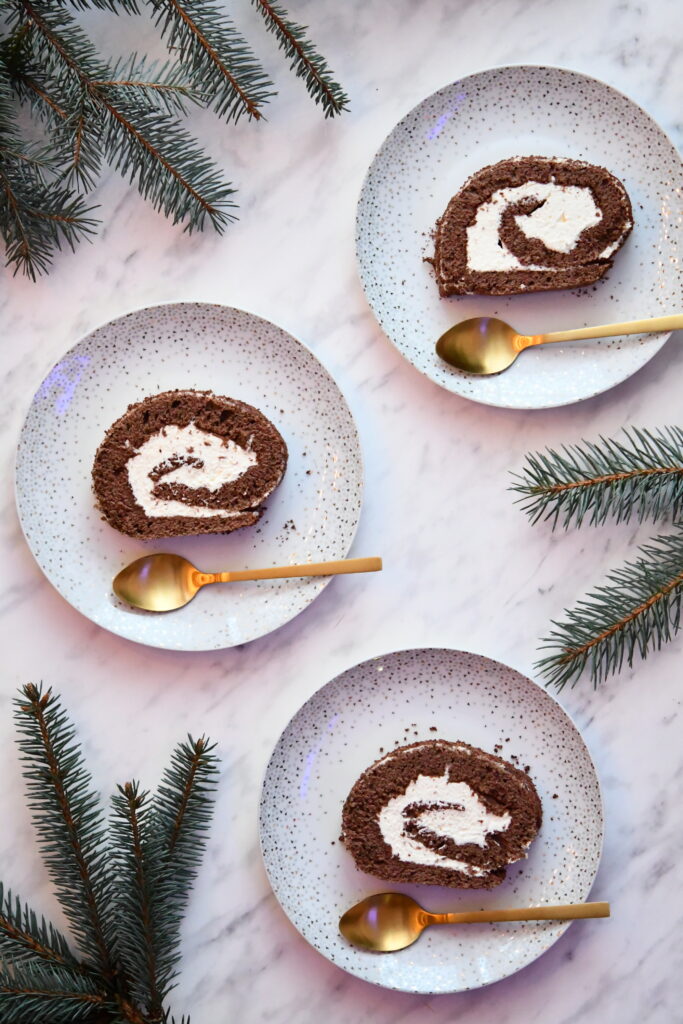 Ingredients:
Cake:
5 large eggs
150 g sugar
150 g flour
2 tablespoons cocoa powder
50 g of grated dark chocolate
1 tablespoon of oil
1 teaspoon of baking powder
Cream:
300 g heavy cream
250 g mascarpone cheese
2-3 tablespoons of vanilla sugar
1 flat spoon of granulated sugar
Additional:
60 g grated milk chocolate
Procedure:
Cake:
Separate the yolks from the whites. Beat the egg whites until stiff, adding sugar at the end of beating. Mix until sugar is dissolved. Add one yolk at a time and a tablespoon of oil while mixing. Combine flour, cocoa powder, baking powder and grated chocolate. Gradually add to the egg mixture and mix until well combined. Pour the batter into a large baking tin lined with baking paper and spread evenly. Bake at 180°C for about 13-15 minutes. After baking, remove from the oven and gently remove the paper from the cake. Put the sponge cake on a cloth and, while still warm, gently and slowly wrap it into a roll (longer side). Allow it to cool.
Cream:
Whip the cream and add sugars at the end. Beat until ingredients combine. Mix the mascarpone cheese for a while, add the whipped cream in batches, mix until a homogeneous mass is obtained.
Assemble:
Unroll the sponge cake, spread the cream evenly, reducing it at the end. Leave 2 tablespoons of the cream for the topping. Roll the cake and spread the rest of the cream on top and Sprinkle with grated chocolates. Refrigerate for 2 hours before serving 🙂
Enjoy!