Easy to prepare, tasty, delicate, soft, perfect for burgers, pulled beef or plain sandwiches. The buns disappear very quickly, because they are simply delicious and taste perfectly warm with just butter 🙂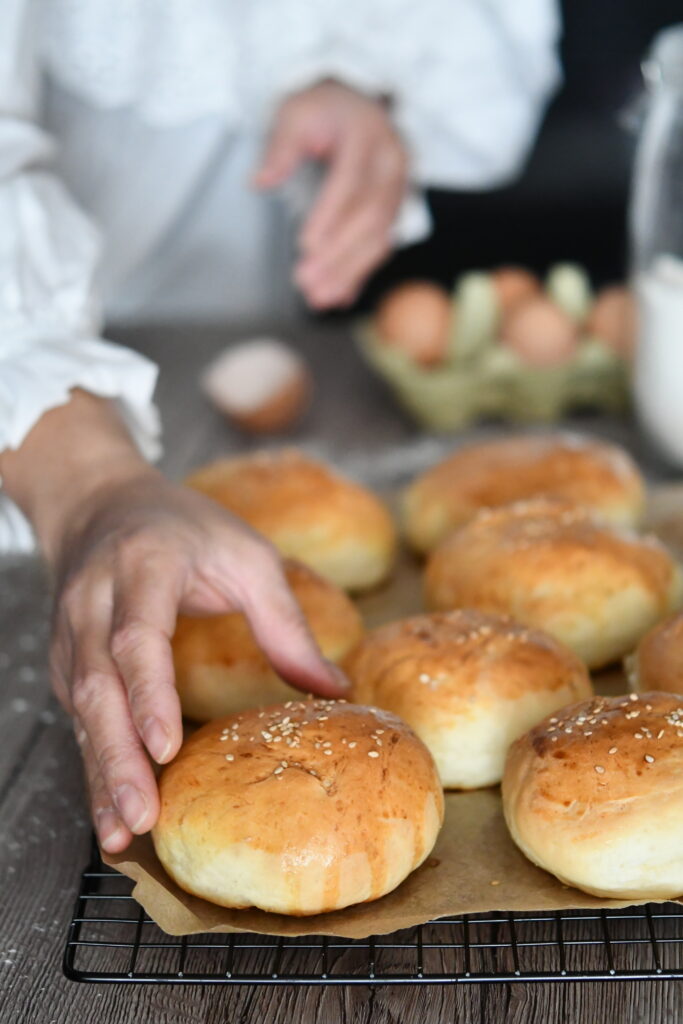 Ingredients:
Activate Yeast:
100 ml of warm (not hot) milk
25 g fresh yeast, broken into smaller pieces
1 tablespoon of flour
1 teaspoon of sugar

Dough:
200 ml milk (preferably lukewarm)
550 g of sifted flour
½ teaspoon of salt
1 egg
2 tablespoons of sugar
50 g of melted butter
Additional:
1 tablespoon of milk
1 yolk
sesame (optional)
Procedure:
Activate Yeast:
Add the rest of the ingredients to the milk. Mix everything thoroughly and leave in a warm place for 15 minutes. The leaven should increase its volume three times.
Dough:
Put the flour, salt, egg, sugar and yeast in a bowl. Knead the dough by gradually adding milk. When the dough is uniform and not sticky, add the melted butter and continue kneading for about 10 minutes until a uniform, elastic mass is obtained. Transfer the dough to a bowl, cover with a cloth and let it rise for at least an hour. After this time, take the dough and knead it for a minute. Divide the dough into 11 parts and form balls. Line a baking tray with baking paper and place all the balls on the tray. Flatten them into a 1cm-high cake, cover the baking sheet with a cloth and leave to rise for 45 minutes.
Procedure of buns:
When the buns rise, mix the milk with the yolk. Brush each bun with the milk-egg mixture and sprinkle with sesame seeds if desired. Preheat the oven to 200°C (top – bottom) and bake the buns for 15-18 minutes, until they get a nice color.
Enjoy!