Bigos is a classic, traditional Polish dish prepared in almost every Polish home. It can be said that as many families as there are so many traditional recipes, because some prefer a strongly sour stew, others with strongly noticeable mushrooms, and still others greasy. Bigos is usually made of sauerkraut, but I like the sweet version, white cabbage and tomato puree, more appealing to me. It is an extremely simple, quick and delicious recipe for bigos, which you can easily feed the whole family with 🙂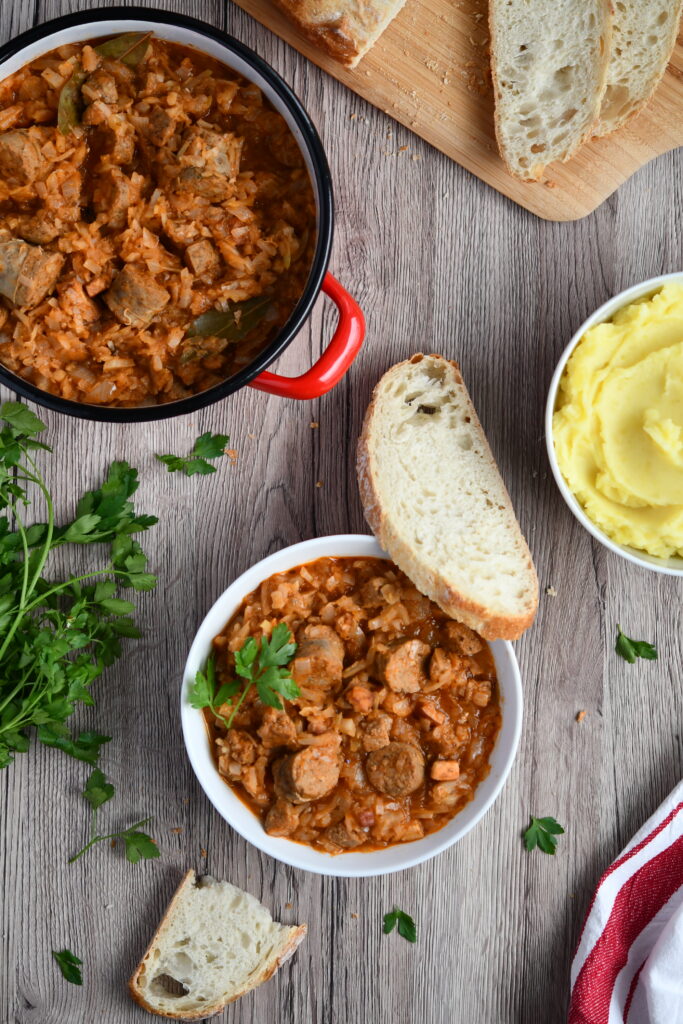 Ingredients:
1 kg of shredded white cabbage
150 g of smoked bacon, diced
500 g diced white sausage (you can also cut some into larger pieces)
1 large onion, diced
250 g of tomato puree
1 teaspoon of marjoram
3 bay leaves
3 grains of allspice
5 peppercorns
salt and pepper to taste
oil for frying
Procedure:
Pour the cabbage with water, add bay leaves, allspice and peppercorns. Simmer for 15 minutes (you can add stock cubes to taste, but be careful because when the bacon is salty, salty stew may come out). During this time, fry the bacon in a little oil. When the bacon has melted the fat, add the sausage and onion. Fry together until the onion is translucent and soft. Pour the water from the cabbage but leave a glass of water on it. Add fried bacon with sausage and onion. Add the tomato puree and marjoram. Mix everything together and simmer, covered, for about half an hour. At the end, season with pepper, salt and marjoram. Serve with mashed potatoes or bread 🙂
Enjoy!