Recently, I have been craving Twix bars, so I was extremely happy when I accidentally stumbled upon a recipe for Twix Cake. A simple, no-bake dessert, extremely delicious, reminiscent of the famous bars. It looks really great and disappears very quickly 🙂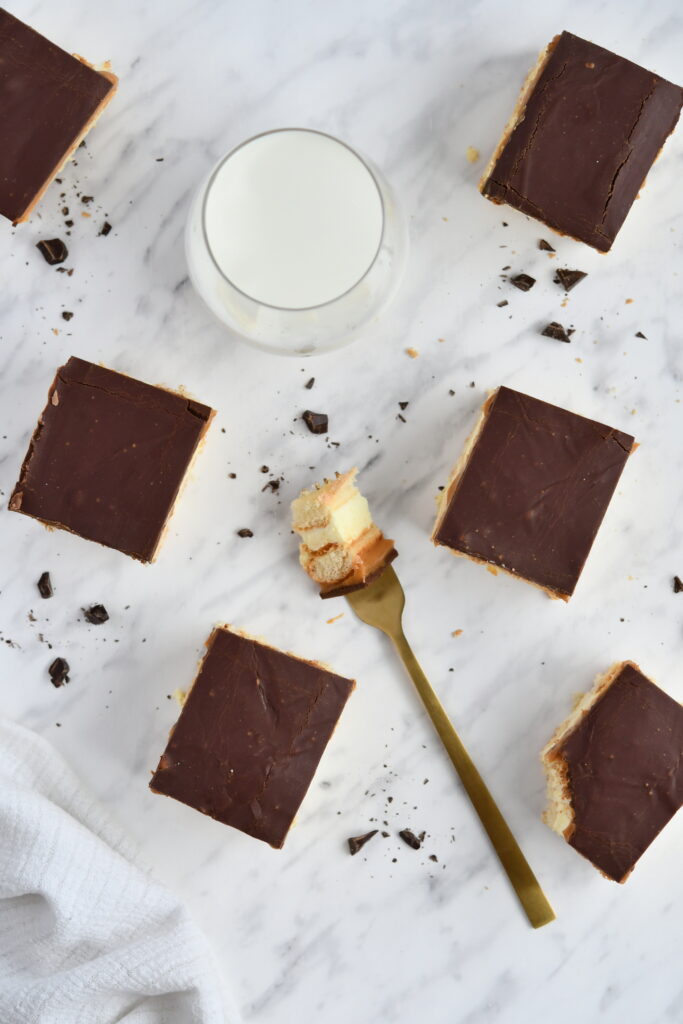 Ingredients:
550 ml of milk + 40 ml of milk for the chocolate glaze
3 tablespoons of sugar
80 g (2 packages) of cream pudding
200 g butter, softened
460 g of butterscotch
300 g of savoiardi biscuits
200 g of milk chocolate
100 g of dark chocolate
Procedure:
Mix 250 ml of milk with the pudding thoroughly. Add sugar to 300 ml of milk, mix and slowly bring to the boil. When the milk is boiling, add the milk and pudding mixture, stirring constantly. When the pudding is thick, remove it from heat and let it cool down. Cream the butter until it is fluffy and add 1 tablespoon of the pudding, mixing all the time, until a smooth cream is obtained. Prepare a baking tray 24×28 centimeters and line it with baking paper. Line out a layer of biscuits (use half of the biscuits) and evenly spread the pudding mass. Again, lay out a layer of sponge biscuits and evenly lay out the butterscotch over this layer. To prepare the glaze in a saucepan, put chocolate and 40 ml of milk (if the glaze is too thick, add milk, if it is too thin, simply keep it on the fire for a longer time). Heat until a homogeneous mass is obtained. When you get the glaze, slightly cooled but still thin, evenly spread it over the butterscotch mass. Refrigerate the dessert for a few hours after serving 🙂
Enjoy!