Mac & cheese or simply macaroni and cheese, is a very popular dish all over the world, especially in the United States. Here, however, we bring a recipe to the next level, where the main ingredient is not just only cheese but also with shrimps which gives a very interesting and delicious taste. A great recipe for a special occasion for a large family especially for seafood and cheese lovers 🙂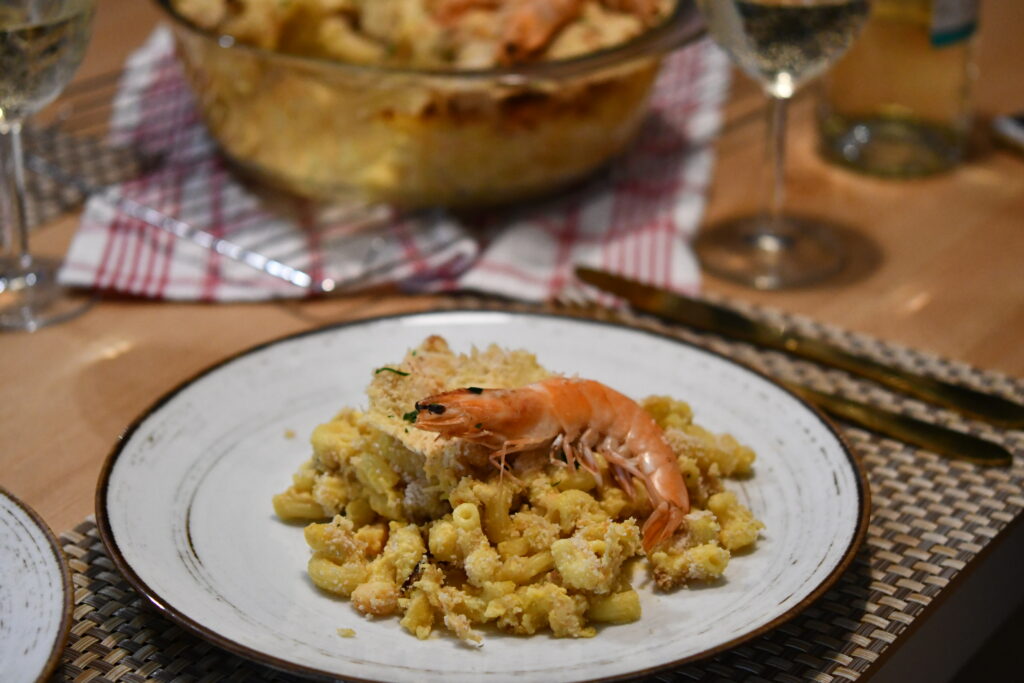 Ingredients:
1 kg of fresh green prawns, deveined
2 medium onions, finely chopped
4 garlic cloves, finely chopped
50g of butter
200 ml of white wine
70 g of grated cheddar cheese
70 g of grated parmesan cheese
70 g grated yellow cheese
50 g of flour
1 liter of milk
2 teaspoons of mustard
400 g of pasta
a bunch of green parsley and 1 tablespoon of chopped parsley for garnish
a few leaves of fresh basil
½ teaspoon cayenne pepper
1 small pinch of saffron
salt and pepper
bread crumbs for sprinkling on top
Procedure:
In a large pot, bring salted water to a boil. Add the parsley and basil, then add the prawns after 1 minute. Boil the prawns for 4 minutes. Take it out and set aside to cool. In a large and deep frying pan, melt the butter over low heat. Add the onion, garlic, saffron and cayenne pepper. Cook for about 10 minutes, until the onion is tender (do not fry until brown). After this time, add the flour and mix thoroughly until a roux is formed. Pour with wine, stir and bring to boil. Add milk and mustard and mix thoroughly. Cook it all for 10 minutes. During this time, prepare the prawns. Peel them from the shells, remove the head and tail. You can squeeze juice and pieces of meat from the head, they will add sweetness to the dish. Chop the shrimp meat into small pieces. Cook the pasta according to the instructions on the package, leaving a little water (half a glass). Preheat the oven to 180 ° C. Take the sauce off the heat, add the pasta, meat, cheese and cheddar and mix everything thoroughly. Add salt and pepper to taste and mix again. If the sauce is too thick, you can add left water from pasta, the sauce will thicken during baking. Transfer everything to a baking dish, sprinkle with a 1 mm layer of breadcrumbs and put grated parmesan on top. Bake for 35 minutes until golden brown, at the end of baking you can add the prawns on top. Garnish with chopped parsley. The dish is ready 🙂
Enjoy!