Most recipes using galette are sweets, and few people know that this cake also goes well with classic, savoury dishes. The dish is slightly similar to pizza, but it is prepared faster, the dough is crispy and delicious, and this dish looks really phenomenal 🙂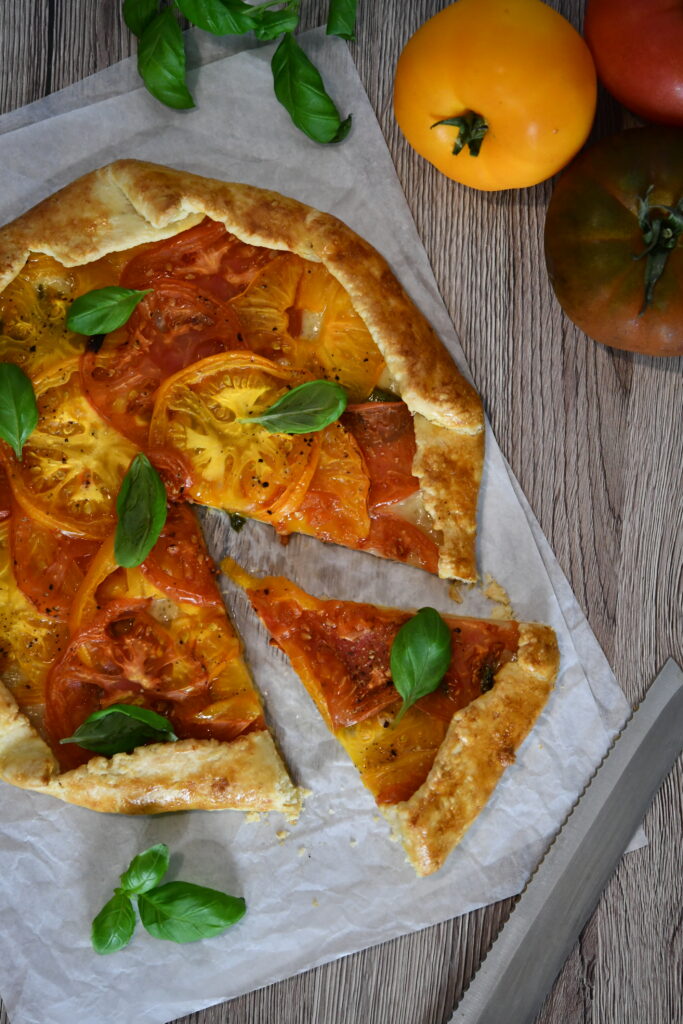 Ingredients:
1 ½ cup of flour
¼ teaspoon of salt
½ teaspoon of sugar
½ cup of cold butter, cut into cubes
¼ cup of sour cream (i used 18%)
1 egg, beaten for egg wash before baking
2 pcs of medium-sized heirloom tomatoes
½ glass of fresh basil leaves
50 g grated cheddar cheddar cheese
salt and pepper
Procedure:
Whisk flour, salt and sugar in a big mixing bowl. Add the butter and mix thoroughly using by hand until it looks like bread crumbs. Add sour cream and mix until well combined. Form the dough into a ball and sprinkle with flour. Wrap with plastic wrap and refrigerate for an hour.
By this time, cut the tomatoes into thin slices. Dry into a paper towel for 10 minutes. Place the pastry dough outside and allow it to sit for 5 minutes to soften. Flatten the dough into a floured surface. Put the cheese over the pastry leaving 1 inch space around the edges. Put some basil leaves on top of cheese. Arrange the tomatoes. Fold the edges up to reach the tomatoes. Sprinkle it with salt and pepper. Brush the pastry with egg wash. Bake into the oven preheated to 180°C for 25-30 minutes or until the pastry turns into golden brown. Remove from the oven and allow to cool for 5 minutes before serving. Garnish with some basil leaves.
Enjoy!