A very simple dessert, extremely tasty and beautiful. Fans of Raffaello pralines will be delighted, because this dessert goes perfectly with this popular chocolate. A perfect,mini-sized dessert for various celebrations 🙂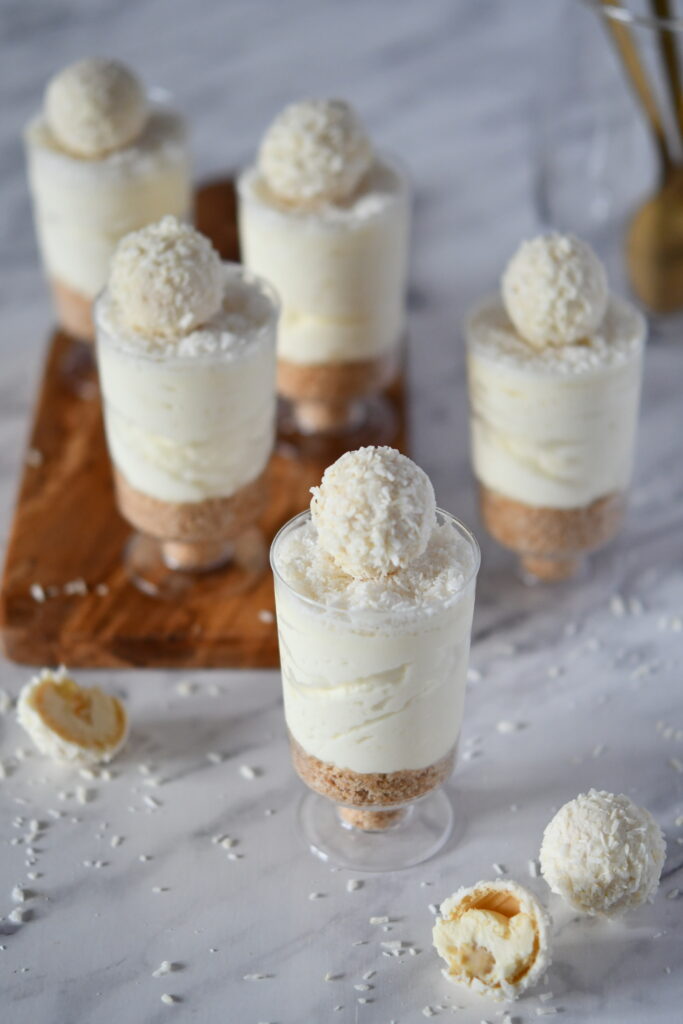 Ingredients: (10 servings in 100ml dessert glass)
Base:
50 g petite beurre biscuit
1 tablespoon sugar
30 g melted butter
Filling:
100 g white chocolate
250 g cream cheese
200 g heavy cream, chilled
1 tablespoon powdered sugar
Toppings:
coconut flakes
raffaello pralines
Procedure:
Process the biscuits in a food processor or a blender until crumbs. Add the sugar and melted butter and mix it with the biscuits. Put a spoonful of crumbs into a mini dessert glass. Place it in the fridge while you make the filling. To make the filling, melt the chocolate in a water bath and let it cool. Once melted chocolate has cooled, add the cream cheese one spoon at a time and whisk it until it's all incorporated. The cream cheese should be at room temperature. Pour the filling over the base and smooth it out. Put in the fridge to set for at least 2 hours. Decorate it with coconut flakes and praline chocolates. Serve 🙂
Enjoy!